Featuring...
Aldrich Allen, Melina Bielefelt,
Aaron Francis, Crystal Keith,
Corey Klemow, Kelley Leathers,
Julie A. Lockhart, David LM Mcintyre,
Peter Mattsson, Michelle Philippe,
Pogo Saito and John Wuchte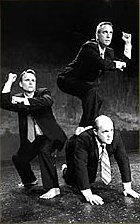 In the Dark Night Series...
Tuesday & Wednesday @ 8pm
July 23 - Sept 21, 2002
EXTENDED! Through Sept 4, 2002
Additional Performances!
LATE-NIGHT: Sat., Aug 17 @ 11pm
MATINEE: Sun., Aug 18 @ 3pm
Tickets: $10
Reservations: (310) 281-8337
or Purchase Tickets Online!



Buy tickets online to both CÏRQUE PÏCNÍQUE
and our Mainstage Show, MACBETH, for only $20!
2-SHOW SPECIAL - ONLINE ONLY!