A Kind of Love Story
written & directed by Jenelle Riley
WORLD PREMIERE!
SEPTEMBER 21 - OCTOBER 27, 2012
Fridays & Saturdays @ 8pm
plus Thursdays, Oct. 18 & 25 @ 8pm
This is the story of two people who were made for each other - true soulmates - a man and a woman destined to fall madly in love with each other... if only they could ever meet. From award-winning writer Jenelle Riley comes a hilarious and heartfelt world premiere play that both skewers and pays homage to the romantic comedy genre. Mark is a nice guy who never gets the girl, while Ally can't seem to shake the world's worst boyfriend. Both have built their romantic ideals on Disney heroes, fairy tales and Cameron Crowe movies. They're perfect for each other, but there's just one problem: they've never met. As we follow their overlapping lives, we see all the ways these two are true soulmates, and wait for the moment they will find each other... if they find each other.
Adapted from the SERIAL KILLERS serial!
Reviews
"GO... seriously funny and endearingly sweet." -L.A. Weekly
"...wins us over with pure charm..." -Stage and Cinema
"A great date play about the mysteries of finding true love! How the heck does anyone ever find their soul mate? Reminded me to be grateful for my sweet life with my loving man." -Two-time SAG Award winner Beth Grant ("The Artist," "Little Miss Sunshine")
"The smartest, funniest romantic comedy since '500 Days of Summer' is not at your local movie theater, it's on stage right now at Sacred Fools Theater in Hollywood. Don't miss it!" -Bob DeRosa (writer/producer, "White Collar"; writer, "Killers")
"I never thought it was possible for a play to be hilarious and heartbreaking at the same time, but A KIND OF LOVE STORY miraculously is. A wonderful cast, great writing and direction come together to create a terrific evening you will not soon forget. You want to take them all home with you." -Stuart Gordon (writer/director, "Re-Animator," "Re-Animator: The Musical")
Awards
L.A. WEEKLY AWARD WINNER!
Comedy Direction - Jenelle Riley
PLUS FIVE ADDITIONAL L.A. WEEKLY AWARD NOMINATIONS!
Comedy Ensemble - Curt Bonnem, Donelle Fuller, Eric Giancoli, Carrie Keranen, Michael Lanahan, Rebecca Larsen, Erin Matthews, Will McMichael, Jennifer Christina Smith, Rick Steadman, Terry Tocantins & Carrie Wiita
Female Comedy Performance - Erin Matthews
Female Comedy Performance - Carrie Wiita
Male Comedy Performance - Michael Lanahan
Playwriting - Jenelle Riley
Video Preview
Watch the first ten minutes of A KIND OF LOVE STORY, as originally presented in Serial Killers!
Photos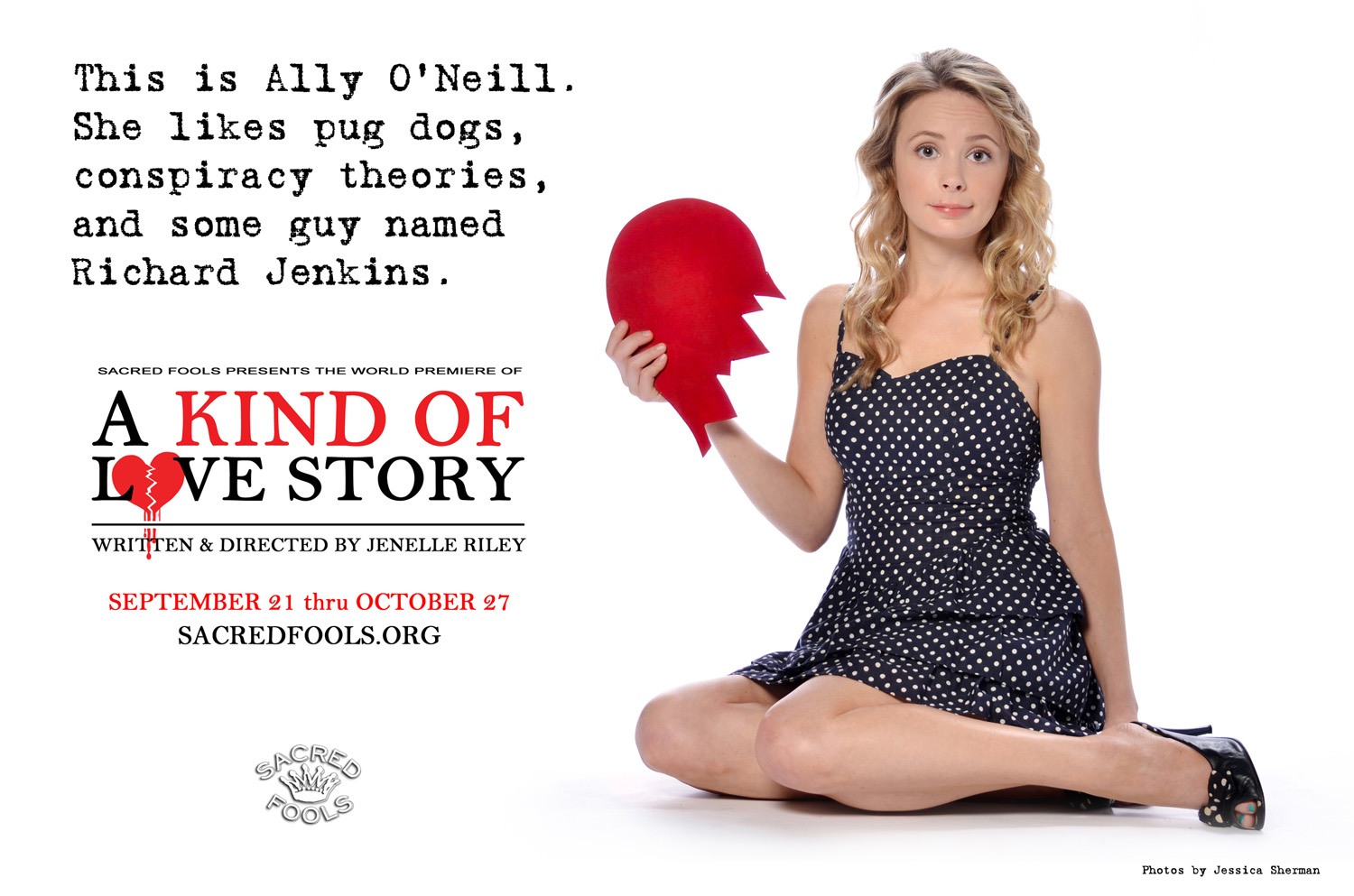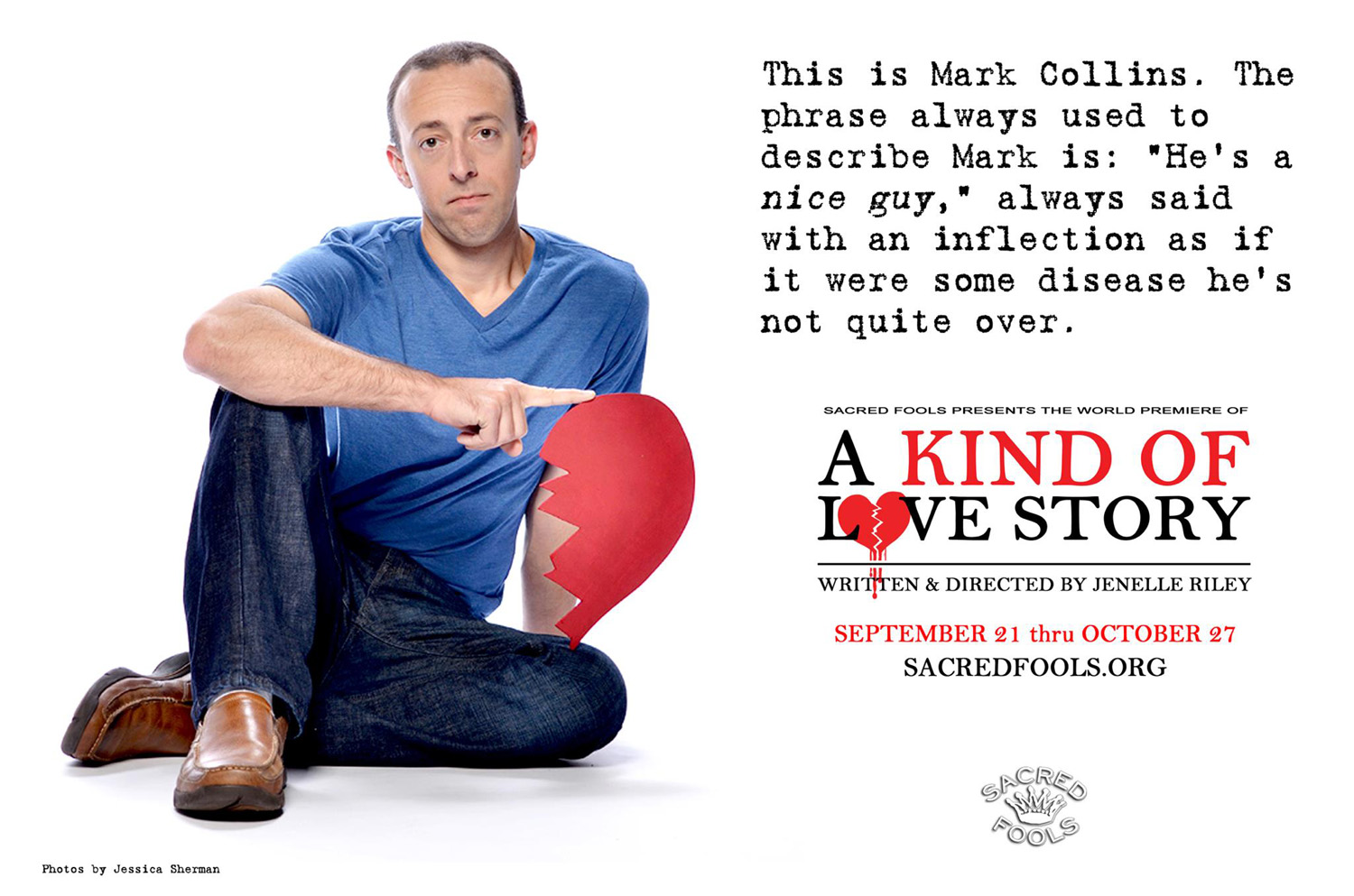 Cast
Michael Lanahan as Mark
Carrie Wiita as Ally
Curt Bonnem as Bob
Carrie Keranen as Diane
Rebecca Larsen as Casey
Erin Matthews as Lucy
Jennifer Christina Smith as Kelly
Rick Steadman as Max
Donelle Fuller, Will McMichael & Terry Tocantins - Ensemble
and Eric Giancoli as Narrator
Understudies
Anthony Backman as Mark / Ensemble
Bailee DesRocher as Ally / Kelly
Pete Caslavka as Max
Terry Tocantins as Bob
Lena Bouton as Casey / Diane / Belle
Emily Clark as Lucy / Ensemble
Crew
Producers - JJ Mayes, Ben Rock & Monica Greene
Associate Producers - Annette Fasone & Addi Gaash
Assistant Director - Bryan Bellomo
Stage Manager - Megan Crockett
Sound Design - Mark McClain Wilson
Lighting Design - Brandon Baruch
Set Design - Tifanie McQueen
Costume Design - Marianne Davis
Prop Design - Lisa Anne Nicolai
Projection Design - Anthony Backman
Graphic Design - Curt Bonnem
Title Card & Book Cover Illustrations - Amy Martinez from Noisy Merriment
Photography - Jessica Sherman | Now That's You
Reviews
L.A. Weekly (GO!)
Jenelle Riley's lighthearted comedy is seriously funny and endearingly sweet. Mark (Michael Lanahan) and Ally (Carrie Wiita) were indoctrinated, while growing up, by fairy tales, Disney movies, romantic comedies and Hollywood endings. Each is convinced that the perfect mate is out there somewhere, if they could only find him/her. Meanwhile, both suffer all the hurts and indignities inflicted by the dating game. Treated like doormats by their friends, ridiculed by their acquaintances, they desperately hold onto their optimism despite unhelpful advice from a vain and dunderheaded Superman (Will McMichael) and condescending Belle (Rebecca Larsen) from Disney's Beauty and the Beast. Ally puts up with a boorishly obnoxious boyfriend (Rick Steadman) because she thinks he's better than nothing, while Mark is surrounded by women who think he's a great guy but wouldn't dream of dating him. Erin Matthews provides a hilarious portrait of Ally's voluptuous, airheaded roommate, and there are sterling performances by Carrie Keranen, Curt Bonnem, Jennifer Christina Smith, Donelle Fuller and Terry Tocantins. The witty and handsome set design by Tifanie McQueen and whimsical projections by Anthony Backman add to the fun. Uncredited hair and wigs enhance character.
--Neal Weaver
© 2012 L.A. Weekly
Stage and Cinema
If you're inclined to think in terms of film noir, you could very easily give playwright Jenelle Riley's quite charming romantic comedy the subtitle "The Long Meet Cute": Her play, A Kind of Love Story, is a love affair that truly takes its time in igniting; the central couple who's destined to fall in love don't even connect with each other until past the hour and a half mark. Mind you, it turns out that this is just fine, as Riley adroitly crafts an almost entirely beguiling tale of true love almost missed.
In Riley's sprightly, slightly ironic production, the standard tropes of the stock Hollywood romantic comedy are amusingly melded with unexpectedly melancholy undercurrents that touch on the randomness of destiny. The play hints at the mildly appalling notion that, well, if you get on the wrong elevator or decide to take the stairs instead, you could meet the one true love of your life—or you might miss him or her and wind up alone for your entire life, eating canned green beans while cuddling your cat on a spinster's sofa (not that there's anything wrong with that, by the way).
Mark (Michael Lanahan) and Ally (Carrie Wiita) are the sweethearts who spend most of the play just managing to avoid getting together with each other. In an intriguing staging note, Riley has cast as her leads a pair of performers, who, while extremely appealing personally, are more likely to look as though they'd play the Second Banana wing folks in a conventional Romancer: This results in a show that cleverly has the feel of a romantic comedy "shadow play" in which the work's point of view focuses on the characters who are usually the ones who exist to ensure that the more photogenic, charismatic Julia Roberts-Tom Hanks-y stars find the love they so richly deserve. Isn't it about time that a romantic comedy focused on the Wingmen for a change? It's a strangely alluring concept and one wonders why it took so long for someone to come up with the idea.
Mark is one of those affable, intelligent, and pleasant fellows who girls like, As a pal, though, they instantly ditch him in favor of the Hot Bad Boy they secretly want to bed and wed. During one blind date with a sultry blonde bombshell Lucy (Erin Matthews, hilariously sexually predatory), Mark tries hopelessly to keep the chemistry flowing, even as she texts her plans for an after date hook up with someone else later on. For her part, Ally is unable to make a clean break from her loathsome ex-boyfriend Max (Rick Steadman), whose sole commitment to the girl rests on his stopping by for frequent spur-of-the-moment blow jobs. Ever in the shadow of her voluptuous roomie (who just happens to be Lucy, snubber of Mark), it seems unlikely that Ally will ever find love.
Matt and Ally almost meet at several different points in the early narrative—but each time the karmic coordinates are not quite set for their romance, which only comes together when the heroes have jettisoned their respective baggage: In her case, the loathsome ex, and in his case, his desperate loneliness.
Riley's staging possesses an almost beguiling intimacy, within which the viewer feels like he or she is actually getting to know the characters. The sweet, but never insipid "folks next door" aspect of Lanahan's Mark and Wiita's Ally are engaging and provide a nice contrast with their "parade of horrible" exes, roommates, and friends. Lanahan's gentle, rather sensitive Mark is the picture perfect fellow you'd bring home to mom; a nice guy who is just waiting to get steamrolled by a sleazy wanton. Wiita's commonsensical, girl-next-door Ally has just the right amount of quirk, without falling into "eccentric" mode. By contrast, the sheer horribleness of the pair's respective dates and exes are simply hilarious: Ms. Matthews' sexy man-eater Lucy is a terrifying nightmare date, unapproachable yet sleazy, while Mr. Steadman's shlubby, pig-like ex-boyfriend is an oddly recognizable type.
By no means is Riley's romantic comedy the perfect play: The fact that the show arose from Sacred Fools' regular "Serial Killers" late night writing project, where the work was originally presented as discrete episodes, results in a show that structurally resembles more of a series of vignettes than a fully sustained narrative. The work also tends to plod, particularly in the mid-section, in which the desire to give each supporting character their own arc ultimately comes across as padded, which is a little wearisome. In addition, the omnipresent, and often unnecessary addition of an almost incredibly intrusive narrator, who really seems not to have any reason for existing, awkwardly renders parts of the work overly static and one-dimensional. There's the making here of a first rate one act play, but much of the middle could stand tightening, particularly during sequences which echo similar incidents in other scenes. Nevertheless, the play certainly wins us over with pure charm – because of the buildup, the ultimate romance is entirely affecting.
--Paul Birchall
© 2012 Stage and Cinema
StageScene L.A. (WOW!)
"This is the story of two people who were made for each other, true soul mates, a man and a woman destined to fall in love with each other, if only they could ever meet" … is how an unseen narrator opens Jenelle Riley's contemporary storybook romcom A Kind Of Love Story, now entertaining audiences at Sacred Fools Theater.
...Playwright Riley, who directs her play with comedic flair, developed A Kind Of Love Story over the course of Sacred Fools' popular long-running weekly late-night series Serial Killers, which presents three continuing stories facing off each week against two new ones, the audience voting at the end of the performance on which three will survive to compete the following week. In other words, like the multiple award-winning Watson, A Kind Of Love Story has already passed the audience test time and time again. It also means that its story will unfold in episodic format, one particularly suiting a chapter-by-chapter fairytale.
...for those like this reviewer who can think of no more appealing movie fare than a romantic comedy classic like You've Got Mail or Notting Hill or While You Were Sleeping, A Kind Of Love Story is theatrical manna from romcom heaven, though R-rated language and raunch bring it closer to There's Something About Mary territory than your average Reese Witherspoon pic.
Wiita and Lanahan are both so spot-on as Ally and Mark that by the time A Kind Of Love Story reaches its oh-so-romantic climactic chapter, they have us putty in their hands.
Steadman and Matthews are standouts in a pair of considerably more colorful roles. The former is hilariously boorish as the "lowest of life forms," the kind of unapologetically narcissistic boyfriend who can turn a cuddle into an almost blow job in five seconds flat. The latter is a delectable treat as a statuesque goddess who knows how to use her every curve (and feigned dumb blondeness) to maximum effect.
Bonnem and Keranen provide expert "couples support" as Bob and Diane, and Larsen gets to be terrific both as lipstick lesbian Casey and in a hilarious cameo as a Disneyesque Belle (of Beauty And The Beast fame). Fuller, McMichael, Smith, and Tocantins complete the cast in bang-up fashion, with a special tip of the hat to superhero-handsome McMichael's droll cameo as none other than the Man Of Steel himself.
Set designer Tifanie McQueen has created two complementary apartments on opposing sides of the stage that are, tellingly, not quite mirror opposites. Brandon Baruch lights McQueen's set and Marianne Davis's character-defining costumes with trademark expertise. High marks go also to Mark McClain Wilson's sound design and Lisa Ann Nicolai's props. Anthony Backman's clever projection design is a perfect complement to this theatrical fairy tale, as is the evening's pre-show classic romcom movie montage.
A Kind Of Love Story is produced by JJ Mayes, Ben Rock, and Monica Green. Annette Fasone and Addi Gash are associate producers. Bryan Bellomo is assistant director. Megan Crockett is stage manager.
Though hardly a month goes by without several Hollywood romcoms debuting on multiplexes across the land, their theatrical equivalents are considerably fewer and farther between. For those who love the genre as much as I, and even for you who might normally turn your noses up at another boy-meets-girl (or in this case doesn't-meet-girl) tale, A Kind Of Love Story makes for a highly enjoyable entry in this Fall 2012 theater season.
--Steven Stanley
© 2012 StageScene L.A.