Absolutely Filthy @ South Coast Rep
FIVE SHOWS ONLY:
Thurs, June 5 @ 7pm
Fri, June 6 @ 8pm
Sat, June 7 @ 3pm & 8pm
Sun, June 8 @ 3pm
TICKETS: $25 (Thurs, June 5: $15)
(714) 708-5555 or Buy Tickets Online (via South Coast Rep)
THE HIT SHOW RETURNS AT SOUTH COAST REP! In this unauthorized parody, a homeless man who lives in a perpetual cloud of dust and grime suddenly finds his life even more difficult to bear when he stumbles upon the funeral of his long-estranged best friend. But as he encounters his childhood friends for the first time in years, he finds he just may have a shot at redemption. Maybe. For Mature Audiences Only. Adapted from the Serial Killers serial.
a part of South Coast Repertory's Studio Series
All performances at the Nicholas Studio at South Coast Rep
655 Town Center Dr., Costa Mesa, CA 92626
(714) 708-5555
This production subsequently performed at the 2014 New York Fringe, produced by Andrew Miano. For information on future productions of ABSOLUTELY FILTHY, visit www.AbsolutelyFilthy.com.
Reviews

PICK OF THE WEEK! "...darkly hilarious... clever writing, comic timing and use of understatement to tremendous effect allow Hunt to weave sociopolitical commentary, gross-out humor and insightful observations into engaging and entertaining rants... It seems that the Fools' late-night series Serial Killers, where this show originated, has once again yielded comedy gold." -L.A. Weekly
"...wit, bite and a dollop of earned sentiment... Hunt respects the integrity of Schulz's creations even as he makes vicious, and hilarious, sport with them." -The Hollywood Reporter
"This is one of the best Sacred Fools shows ever — and a play that truly seems appropriate for a company called Sacred Fools... unexpected epiphanies." -L.A. Stage Times
"...keep[s] the audience continuously laughing and efficiently delighted... the production is brimming with lively staging elements and unexpected surprises." - Stage and Cinema
"...an unexpected, unpredictable, dark comedy... And laughs you will have at the hands of Hunt..." -examiner.com
"Brendan Hunt's script delivers a non-stop spew of zingers... if you're a fan of 'Peanuts,' a cartoon aficionado, or just someone who likes their humor pitched fast and underhanded then this might be just up your alley." -Working Author
"...blares with heart-searing humanity and brazen, balls-a-swingin' humor... relentlessly smart and poignant..." -Flavorpill
"A worthwhile parody... Hunt has taken his views of the characters, expanded on them, and built something much more full from it." -The AAUGH Blog
Awards
WINNER OF THREE L.A. WEEKLY AWARDS!
Comedy Ensemble
Leading Male Performance - Brendan Hunt
Female Comedy Performance - Anna Douglas
PLUS FIVE L.A. WEEKLY AWARD NOMINATIONS!
Female Comedy Performance - Jaime Andrews
Female Comedy Performance - Rachel Germaine
Female Comedy Performance - Shannon Nelson
Male Comedy Performance - Brendan Hunt
Playwriting - Brendan Hunt
WINNER OF THREE HOLLYWOOD FRINGE AWARDS!
Top of the Fringe
Best in Comedy
Spirit of Fringe Best Performance (Male) - Brendan Hunt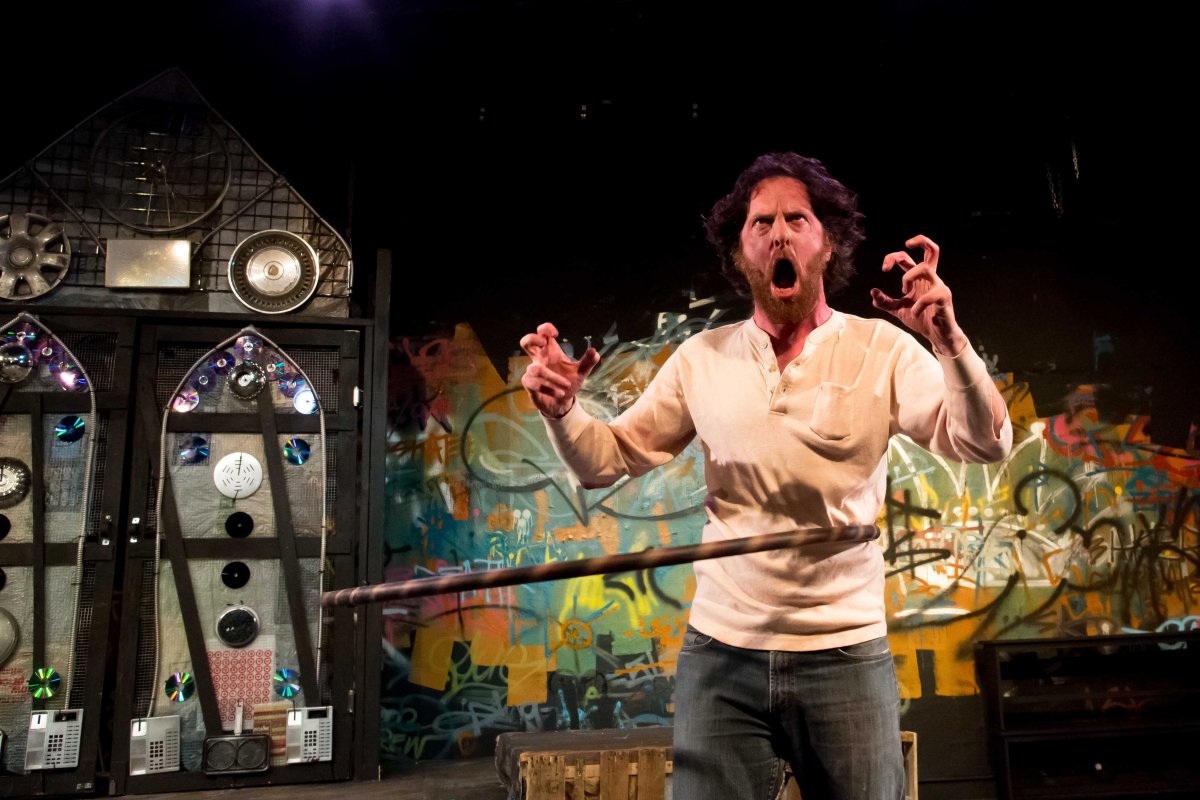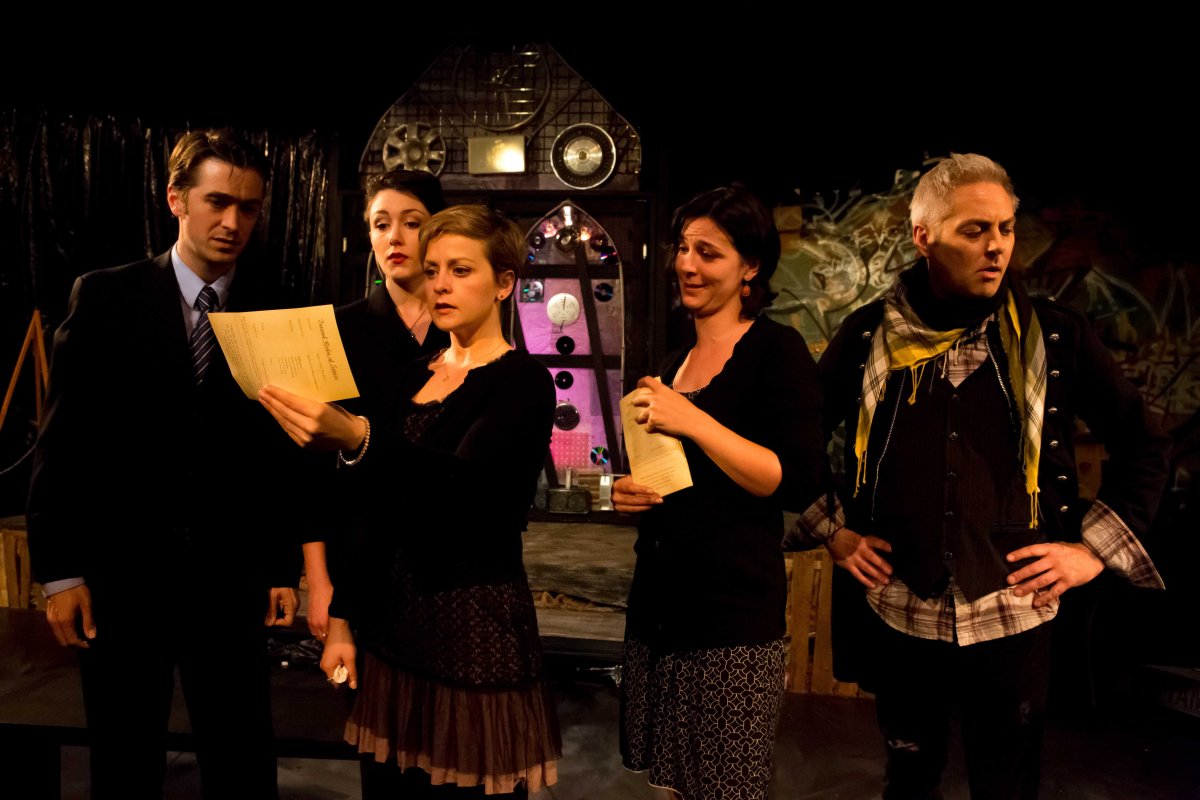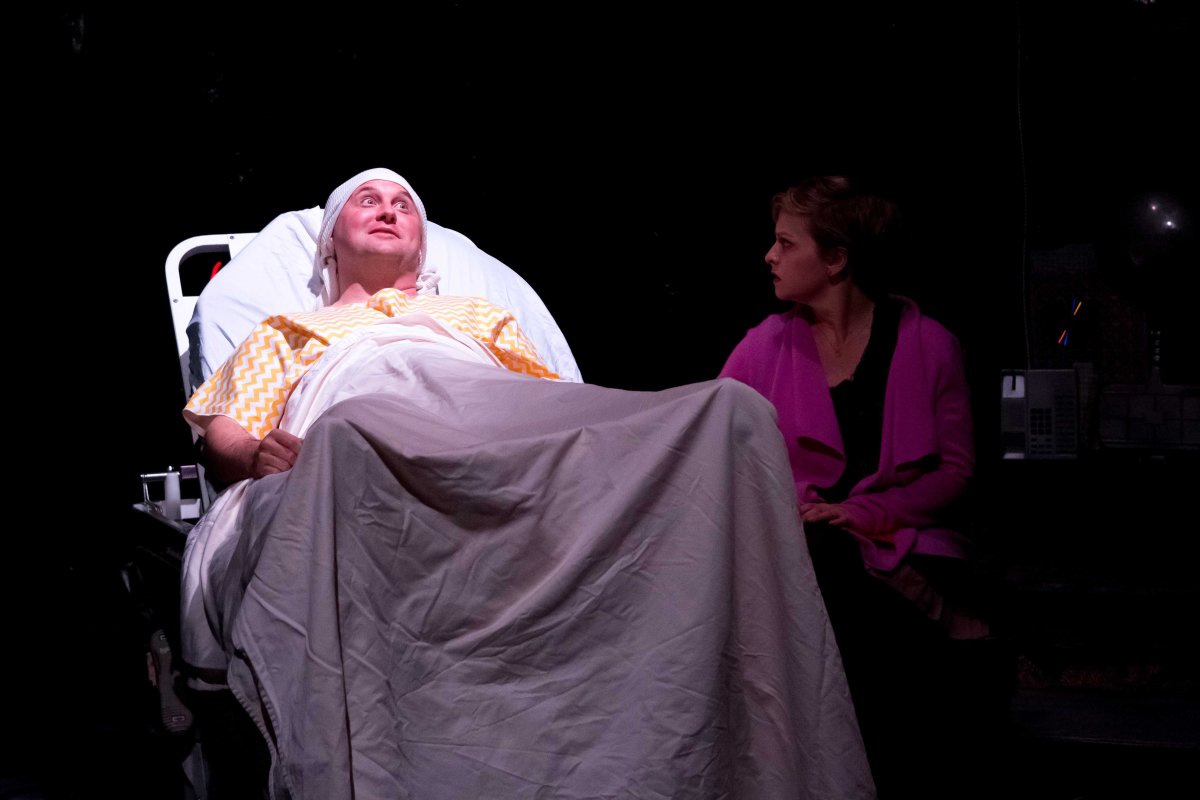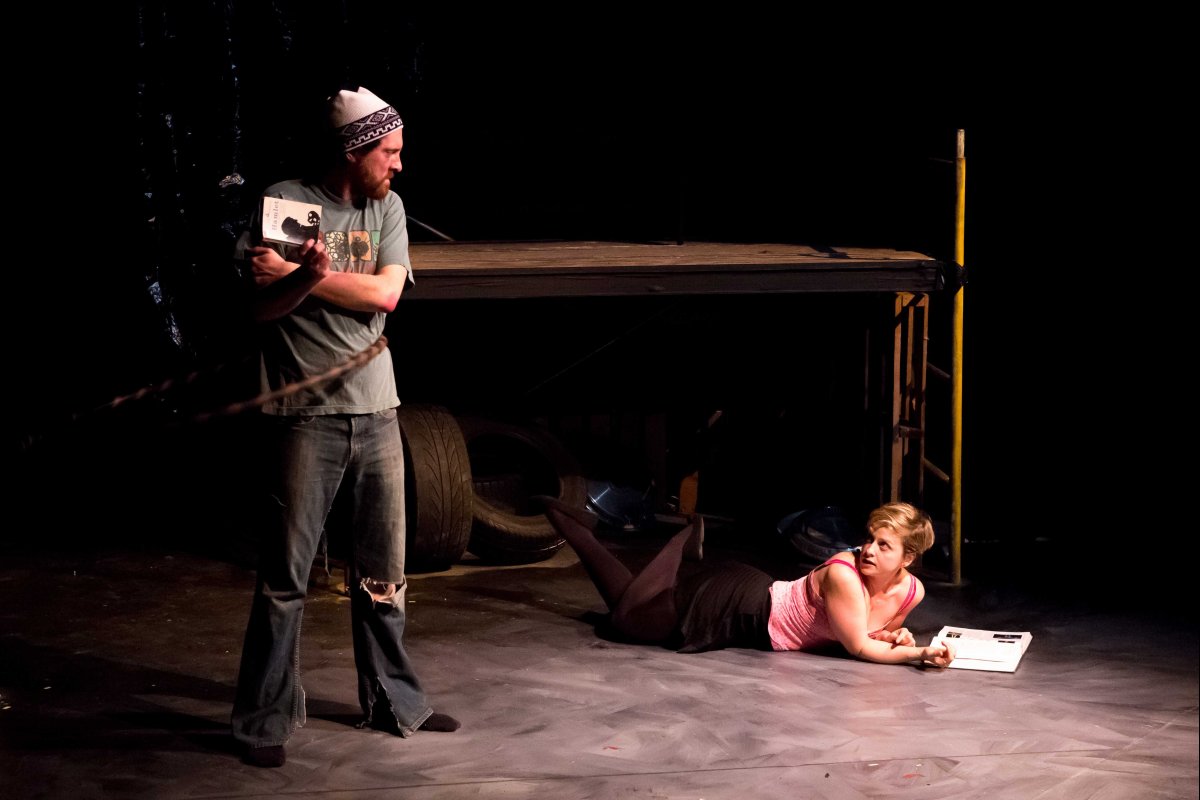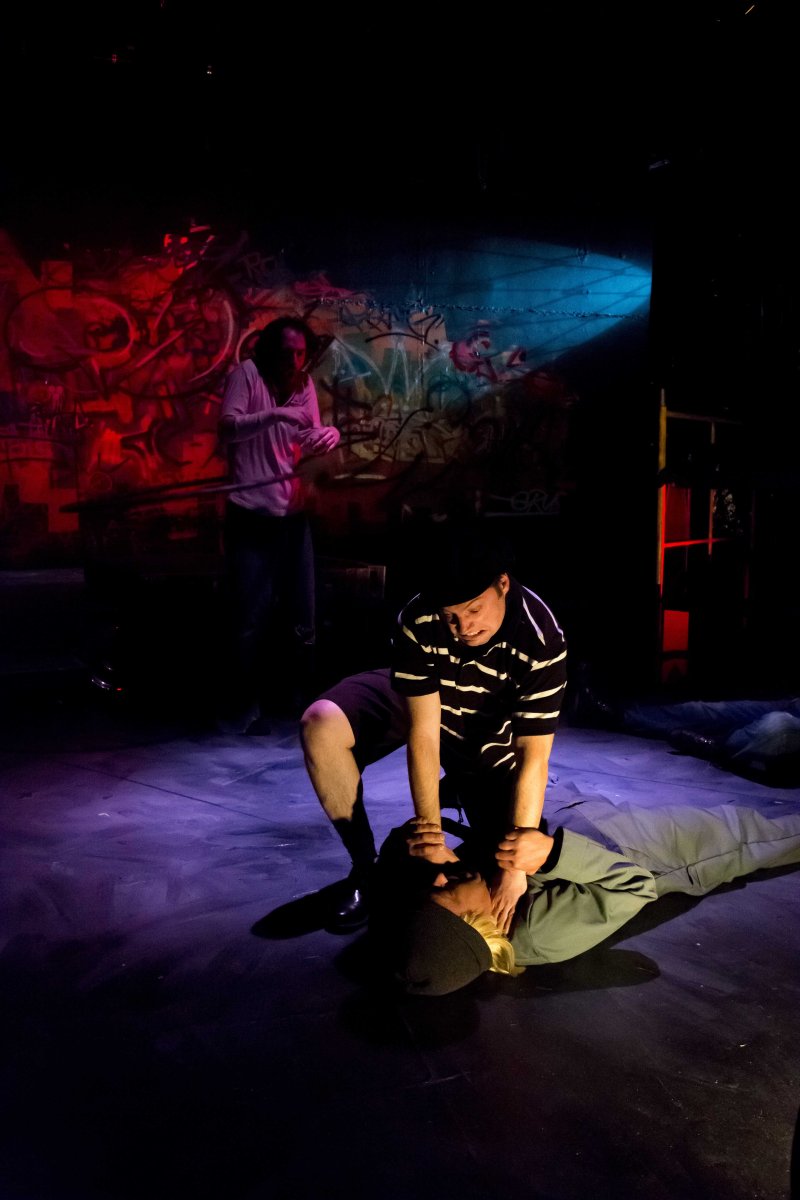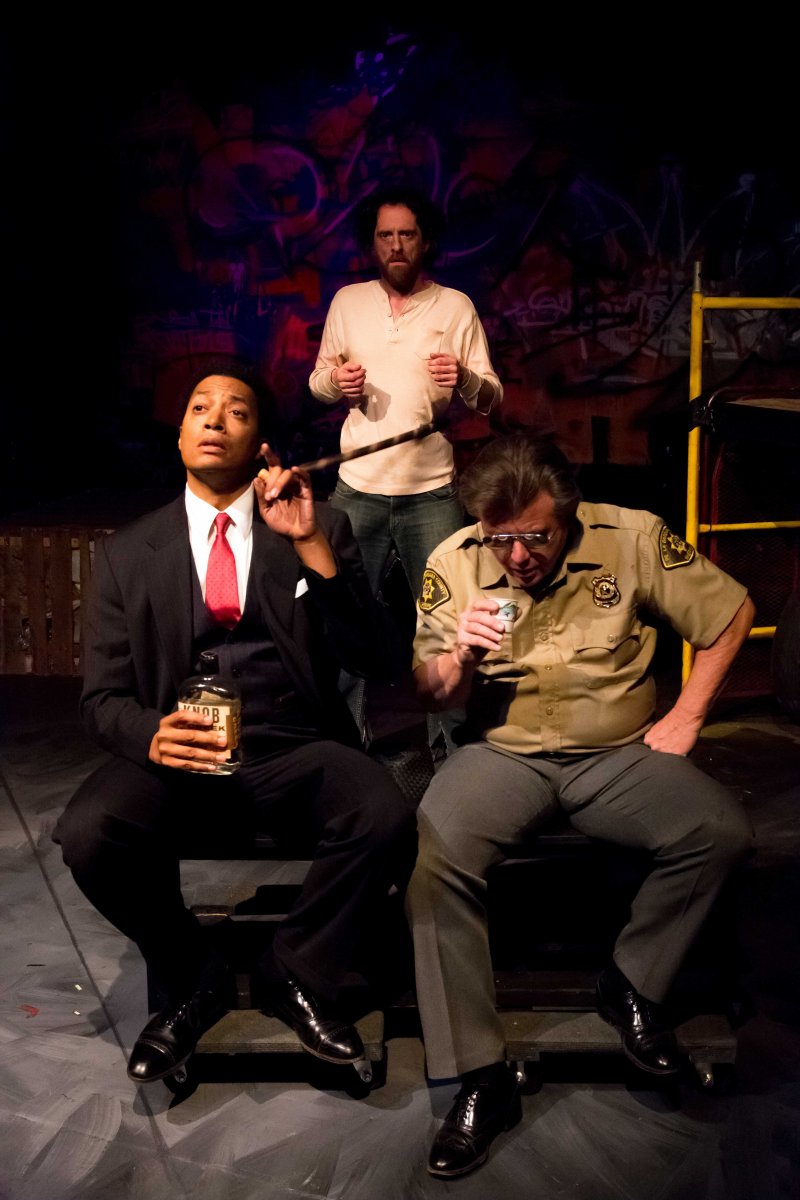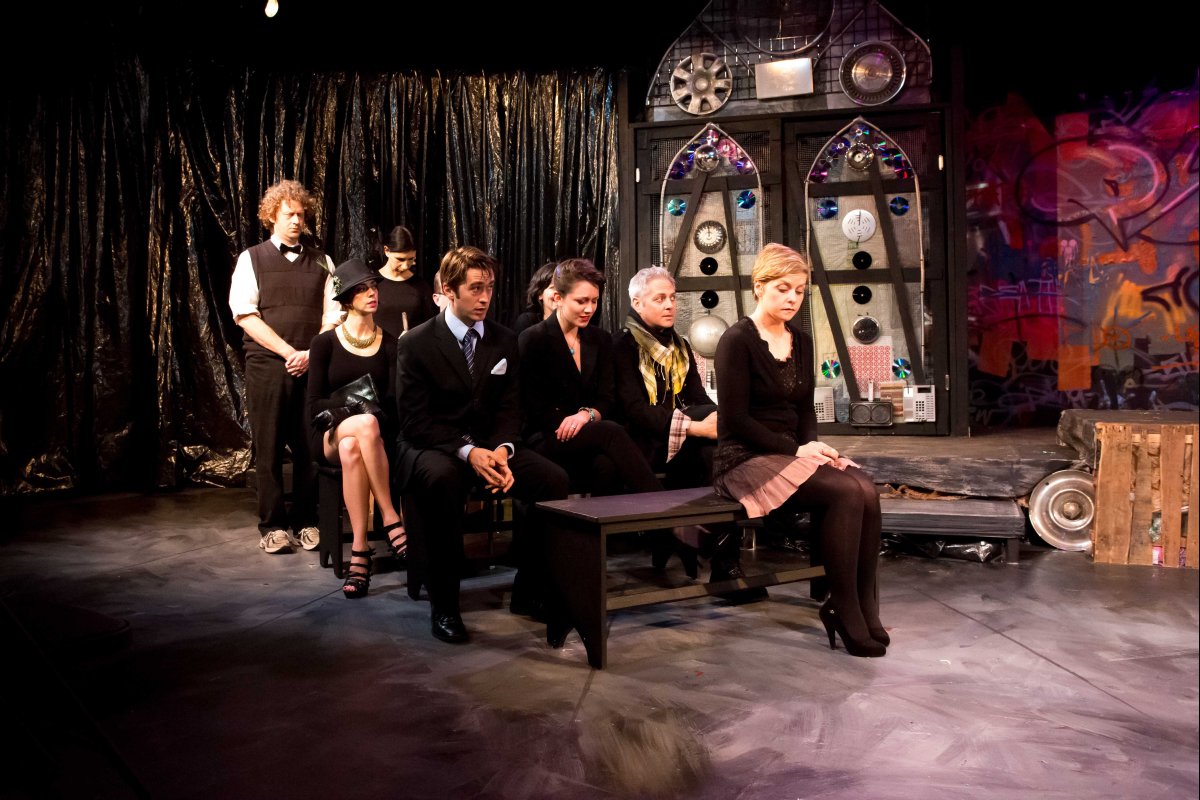 All photos by Shaela Cook Photography
Cast
Brendan Hunt as The Mess
Shannon Nelson as The Bereaved
Anna Douglas as The Big Sister
Robbie Winston as The Little Brother
Curt Bonnem as The Pop Star / Arch
Jaime Andrews as The Ophthalmologist / The Grown Woman
KJ Middlebrooks as His Honor
Rachel Germaine as The Designer / "Die Hundin"
Kiff Scholl as The Deceased / Father Macalester
Swing - Aviva Pressman
Crew
Producer - Andrew Miano
Associate Producer - Dan Balgoyen
Assistant Director - Ed Goodman
Stage Manager - Bo Powell
Set Designer - Stephanie Kerley Schwartz
Lighting Designer - Douglas Gabrielle
Costume Designer - Jaimie Froemming
Sound Design - Daniel Hoal
Props Designer - Emily Donn
Composer - Michael Teoli
Original Song "When I Look Back" - Brendan Hunt
Hula Hoop Construction - Aaron Francis
Graffiti Art - Marco Gonzalez, Amaury Hernandez & Jonathan Rocha
Assistant Stage Manager - Michaela Bulkley
Graphic Design - afKiff Design
Reviews
Read reviews of the original production
Feature Articles
South Coast Repertory Blog
Down and Dirty with Brendan Hunt and "Absolutely Filthy"
Absolutely Filthy is a Los Angeles theatre favorite and award-winning play presented by Sacred Fools Theatre Company. This unauthorized parody about a grownup Pigpen from the "Peanuts," Absolutely Filthy is a dark, dirty comedy that follows a character named The Mess as he reconnects with his childhood pals at the funeral of his estranged best friend.
We sat down with playwright Brendan Hunt—who also portrays The Mess—to talk more about Absolutely Filthy:
What inspired the use of these well-known characters to tell the story?
One day I was mentally loitering on the topic of the things that parents say to their kids, and the unexpected effects those things can have, and it struck me that "Pigpen" is a pretty rough nickname to endure. I totally understand that nothing ill was meant by any parent who may have actually applied that name to a messy child, but nonetheless, calling a kid "Pigpen" could be seen as saying "you are so dirty you remind of the location pigs utilize for both eating and shitting."
At what point does a label like that become inescapable? If a toddler who gets dubbed "Pigpen" grows into a teenager—who still has serious hygiene problems—is he still named Pigpen because he's messy? Or is he still messy because he was named Pigpen?
What has been your creative process of this work—both as a playwright and performer?
It has been a very unique experience and one that is hard to quantify; along with director Jeremy Aldridge we sort of had to figure it out as we went along.
I studied theatre at Illinois State University, and one of the main things I learned always to serve the piece. Whatever choice you make—be it as an actor, director, designer—let it always be something drawn from the script that serves the piece as a whole, not just any amusing whim you may have. That's been a valuable rule of thumb and very good way to find the best option when many different options present themselves.
How has this work evolved—from your original concept to what we'll see at SCR?
It started as one solitary 10-minute episode, with absolutely no guarantee that there would ever be a second.
Sacred Fools Theatre Company has a semi-regular late-night show called "Serial Killers," wherein 10-minute episodes of five different stories are presented, like a sketch night, but sketches with a long narrative. The audience then votes which three stories they want to see return the following week, while the other two "serials" are "killed."
The show that would become Absolutely Filthy was fortunate enough to be voted back 13 times, which meant that I got the chance complete the arc of a story. At that point, the theatre was pitting together its next MainStage season, and it was suggested that I submit what was at that time called Pigpen at 30 for consideration.
What I gave them was literally just the first 10 episodes, cut-and-pasted together. It was by no means a finished article, especially rhythmically and, due to the serial structure, there was a cliffhanger exactly every 10 minutes.
The powers that be at Sacred Fools eventually decided to include it in the season, with the assumption that I would continue to flesh out the script. That worked out pretty well.
What do you want people to come away with having experienced it?
A desire to go home and take a bath.

Absolutely Filthy has not been authorized or approved in any manner by the Charles M. Schulz Estate or United Features Syndicate, which have no responsibility for its content.