Ladder Up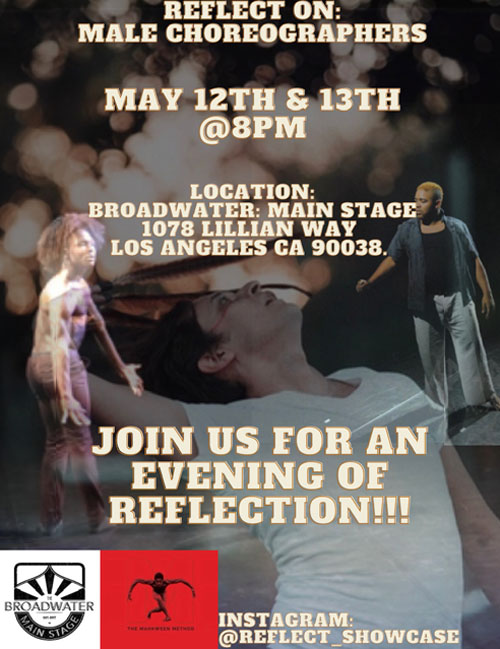 REFLECT ON: MALE CHOREOGRAPHERS
Fri-Sat, May 12-13, 2023 @ 8pm
Tickets
We once again shine a spotlight on James MahKween's REFLECT dance showcase, this time focusing on a diverse lineup of male choreographers. Says James, "I came up with the title because I always believe in leaving a message for the audience to absorb and it gives the audience and artist to connect on a focused topic. Being happy or sad or just even offering something educational that people never knew or gain a new perspective. Connection and conversation is key."
THE USE OF MASKS IS STRONGLY ENCOURAGED. THE BOX OFFICE WILL BE ABLE TO OFFER SOME MASKS FOR FREE BUT PLEASE COME PREPARED.
Performing on the Broadwater Mainstage (Entrance at 1076 Lilian Way)
Video
THE LADDER UP INITIATIVE seeks out Artists, Designers, Technicians or Creative Groups from systematically underrepresented areas of the theater community and puts to them the simple question: Where are you right now and what is the specific thing you need most to get you or your project to the next level? The Board will match up these needs against available resources and select one or two recipients per year.
What is a bit different about our Ladder Up Initiative is that Sacred Fools leadership and Board are not pre-determining what those specific "needs" may be. For example, a playwright new to town may be seeking committed acting and directing talent in order to properly workshop a new script. Or a solo artist may be looking to experiment with a variety of composers or sound designers as the final puzzle piece in completing their next work. Or we may encounter a "next step" situation totally outside of our expectation that may challenge us to rethink something in our own theatrical mindset... and we welcome that possibility.
Ladder Up is how Sacred Fools can take 25+ years of experience, professional relationships and the skills of our extended community (the kind of institutional resources that a financial gift alone can't entirely match) and connect them to emerging artists who may find themselves at a challenging moment in their own development... one where the next step is in sight but just out of reach.
Past LADDER UP Shows
REFLECT ON: WOMEN
Fri-Sat, Dec. 16-17, 2022 @ 7:30pm
Tickets
"Reflect" is an event that gives choreographers a platform to share work based around a chosen theme; past shows have focused on Love, Home and Gratitude. This time around, we will be reflecting on women and all their excellence.
Performing on the Broadwater Second Stage (Entrance at 6320 Santa Monica Blvd.)