THE OLYMPIANS
written by Scott Golden
directed by Bryan Bellomo

We're all Greek to them.

4 Episodes
Original Run: 3 Eps, 9/13/14 - 9/27/14
Playoffs Run: 1 Ep, 4/11/2015
SUMMARY: When the last worshipper of the Greek gods dies, Mr. Black of the Global Order of Deities informs a resistant pantheon that in order to get their believers back - and therefore their waning powers - they're going to have to change their ways, cutting down on the unwieldy number of gods and getting in touch with modern humans - and taking human jobs. The gods are even less impressed when they meet their caseworker, nebbishy Mr. Corgi, who is on his first case - nobody else wanted to touch a pantheism. After a brief visit from Zeus, who the others are hiding the situation from in fear of his reaction, Mr. Corgi informs them that to rebuild their religion, they'll be going to a place full of people who have lost their way... Los Angeles, California.
Photos by Zachary Bernstein
SUMMARY: The gods are none too pleased with their new Los Angeles digs, a small house called "Chez Olympus." They're also not thrilled that they have to take human jobs in order to reconnect with and assimilate into modern society. And they're furious when they find that Athena signed a contract without reading it... a contract that obligates them to participate in a reality show arranged by Mr. Black. Meanwhile, Aphrodite starts her new job as a phone sex operator, while Dionysus must deal with working in a liquor store but being forbidden to drink by his boss, Mrs. Barushnigash. However, things look up for "Dion" when Marty, a college kid, invites him to a frat party. Back at the house, the gods are fighting with each other, and Mr. Corgi, after finding that Mr. Black doesn't seem to care how badly it's going, swears that he's going to save their religion anyway.
Photos by Douglas Gabrielle
SUMMARY: As the reality show gets underway, the gods begin to bicker. Meanwhile, Dionysus gets into drunken trouble with the goats at a petting zoo, while Artemis sets out on her ill-suited job attempting to sell "Mary Kay Circle R Products" and ends up making new friends who want to give her a makeover. And an increasingly dispirited Apollo, having rejected taking a human job, tries to hit up Jesus and Buddha for work. Although he's turned down, the proud Sun God's fortunes change when meets a couple of girls on the beach who describe themselves as sun worshippers.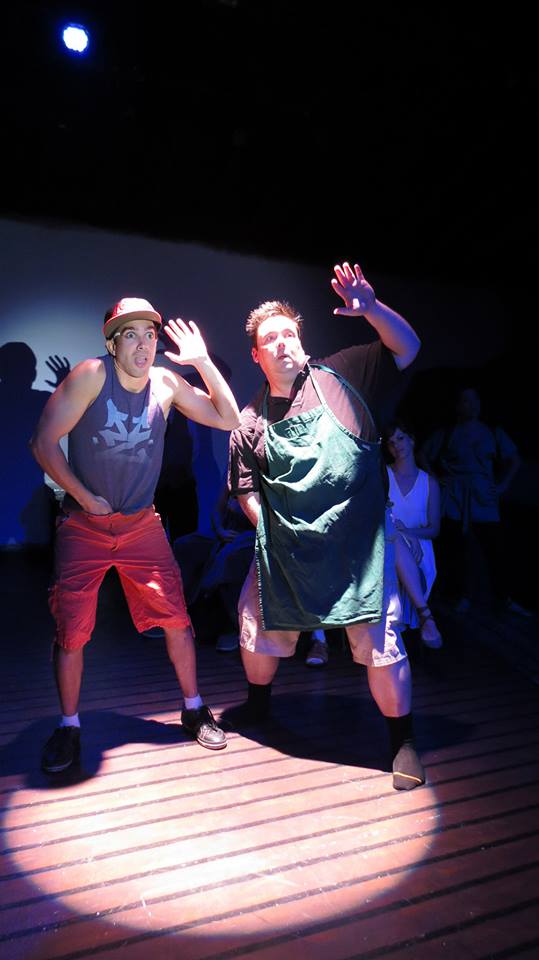 Photos by Douglas Gabrielle
EPISODE FOUR (4/11/15) - PLAYOFFS ROUND 1!
SUMMARY: The various gods try to adjust to their new jobs. Zeus has it the hardest, and goes through the stages of grief as he realizes he's a mortal now. Meanwhile, Aphrodite is working on a phone sex line, Dionysus is attending keggers, Artemis is enjoying her book club, Hades is working as a children's party clown, and Apollo, still looking for a place where he can be a god, is rejected by Scientology.
CAST

Ezra Buzzington

Mr. Black (Ep. 1)

Corey Klemow

Mr. Corgi (Eps. 1-3)

Erin Matthews

Hera (Eps. 1-3)

Shannon Nelson

Hera (Ep. 4)

Lauren Van Kurin

Artemis (Eps. 1-4)

Haley Webb

Aphrodite (Eps. 1-3)

Rebecca Larsen

Aphrodite (Eps. 4)

KJ Middlebrooks

Apollo (Eps. 1-4)

Jaime Andrews

Athena (Eps. 1-2)

Natalie Rose

Athena (Ep. 3)

Marz Richards

Hades (Eps. 1 & 3-4)

Scott Leggett

Dionysus (Eps. 1-4)

Victor Isaac

Poseidon (Eps. 1-4)

Christine Trageser

Athanasia Moritias (Ep. 1)
Grace (Ep. 3)

Pat Towne

Zeus (Ep. 1)

Bruno Oliver

Zeus (Ep. 2)

Kat Haan & Kristian Weathers

Virgins (Ep. 1)

Jaime Robledo

Steve (Ep. 2)

Esteban Andres Cruz

Aphrodite Flores (Ep. 2)

Lorren Cotton

Aphrodite Jones (Ep. 2)

Cj Merriman

Mrs. Barushnigash (Ep. 2)

Ari Radousky

Marty (Ep. 2)

Andrew Joseph Perez

Marty (Ep. 3)

Carrie Keranen

Chantel (Ep. 3)

Jay Bogdanowitsch

Boom Operator (Ep. 3)

Jason Daniels

Camera Operator (Ep. 3)

Jenelle Riley

Ellen (Ep. 3)

Rebecca Metz

Olivia (Ep. 3)

Christian Calloway

Jesus (Ep. 3)

Reggie De Leon

Buddha (Ep. 3)

Kristian Weathers

Beach Girl 1 (Ep. 3)

Heather Schmidt

Beach Girl 2 (Ep. 3)

French Stewart

Roller Skate Gary (Ep. 3)

Jessica Sherman

Theros (Ep. 4)