L.A. WEEKLY
A Late-Night Theater Battle Royale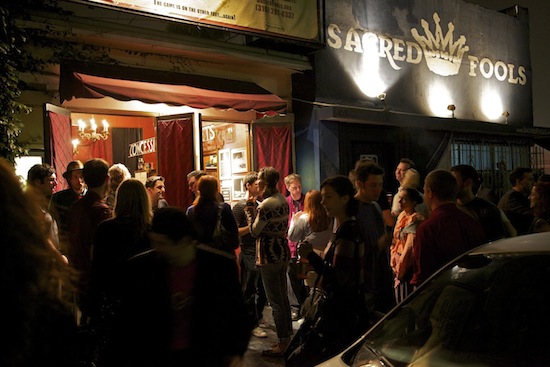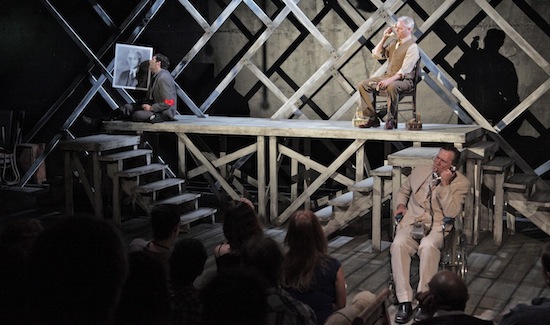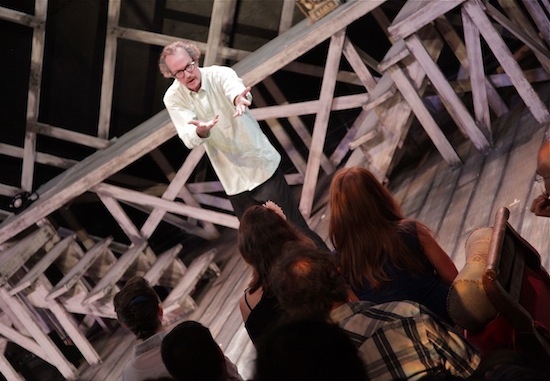 Photos by Arthur Africano
It is about a quarter to midnight last Saturday, and it's the eve of World War II on stage at the Sacred Fools Theater. A young Fuhrer (writer/actor Donal Thoms-Capello) prances out and picks up the phone to call his man-crush, Henry Ford (Curt Bonnem), who is on the other line with FDR (Eric Giancoli). A slightly insane three-way argument ensues. There is talk of metaphorical strudel; there is pouting, and then, mere moments later, there comes the cliffhanger. The crowd loves it.

That last bit is key. In the most direct way possible, tonight's audience will seal the fate not just of an unhinged dictator, but of eight, five-minute serial playlets in all, as they kick off opening night of the fifth annual "playoffs" of the eighth season of Sacred Fools super popular late-night madness Serial Killers.

For those involved, several routes were taken to arrive at this point. Over the course of nearly six months, five plays a week have been competing in an attempt to earn a spot in this duel to the theatrical death, which will culminate with a winner chosen on July 27. Each time, two were eliminated, and two new ones created, until the plays left standing at the close of the regular season automatically qualified for the playoffs, as did the year's eight longest-running serials. To round out the contest, in the weeks leading up to the playoffs, every show throughout the year was thrown into an online voting pool to vie for one last second chance.

More than honor is now at stake: first prize adds up to $750, while runners up will walk away with a cool $250.

Late night theater and the lunacy those wee-adjacent hours inspire is one of the perks of the L.A. theater scene, and Serial Killers isn't the only after-hours option. The first Saturday of the month plays host to UCB's The Midnight Show, while every weekend finds The Tomorrow Show at Trepany House, to name two. (Full disclosure: I'm on the board of the Trepany House.)

But Serial Killers might very well be the one most married to the whims of its audience, and probably the one involving the most hugging -- doled out to those who pay $20. That's the price of a Serial Killers membership, sold mid-show, which doesn't include any tickets to it but does include a CD of songs composed for it, and, in addition to the aforementioned embrace from a company member, it also buys a raffle ticket and the right to rifle through a box of leftover swag.

This makes a certain amount of sense, as the theater's aesthetic can sometimes feel like a bear hug from a slightly deranged yet strangely loveable scamp. Serial Killers likes to take the company's usual penchant for absurdity and then dial up the crazy. In addition to the Ford-besotted Hitler, Saturday night's playoffs included an evangelical preacher with a rather colloquial take on the gospel (The Word), the saga of a seedy small town southern bar (Money and Run), a dysfunctional family with a recently deceased matriarch (Mom's Dead), a singing, dancing encounter with the Black Death (Everybody's Got the Plague), the adventures of a young girl under the bad influence of her invisible friend (Cookie and the Monster), the wisdom of mid-century corporate propaganda (A World Without) and a dystopian clash between carnivores and vegans (The Veganing).

In the end, Hitler was one of the lucky ones. Among the four returning shows from opening night -- Hitler/Ford, Ford/Hitler, Everybody's Got the Plague, A World Without, and Money and Run -- he'll resurface on July 6. This weekend, a fresh slate of eight serials enter the competition.

The show began in 2005 simply enough as a way to showcase the more than 100 company members beyond the limited scope of the theater's prime time slots. Over time, it developed into a means for creating some of Sacred Fools most popular mainstage shows, including two musical hits Beaverquest and CarnEvil.

"It's a great little laboratory," says writer/director Jaime Robledo, perched on the hood of his sedan outside the theater. Two of Robledo's Sherlock Holmes-centered shows -- 2011's acclaimed Watson: The Last Great Tale of the Legendary Sherlock Holmes and the just opened Watson and the Dark Art of Harry Houdini -- grew directly out of long-running serials for the late night show. "You can fail and try again, knowing live, in real time what works and doesn't, what grabs an audience and what doesn't."

By now, the show also functions as such a reliable money-generator that host Terry Tocantins refers to it as the theater's breadwinner. Last year, the full run of the playoffs sold out (Saturday night's line stretched the length of the block by the time the doors finally opened).

Cheap Newcastle and the promise of the unexpected explain some of the appeal. Each week, along with the scripted weirdness, as votes are tabulated on site, additional entertainment might be provided by a musical interlude, interstitial stand-up or a visit from the Red Bastard. The audience's interplay with Tocantins, who estimates he's MC'd 200 of the 211 shows, adds to the draw as well. "It's like a girl you're getting drunk with -- it could go either way," he says of his relationship to the crowd. "Tonight, I think she showed up drunk."

To him, their repartee resembles nothing so much as a game of drunk tennis. "I can't come with bits that I've prepared, because it's transparent. I have to roll with them. This is a legit theater crowd."

At around 1:30 a.m., the show's wrapped, the votes are in and the night's earlier cool Cal Tjader vibe has been swapped out for Le Tigre as the multicolor house lights dim into dance party mode. But the real action remains mostly on the sidewalk outside, where the milling crowd shows little signs of calling it a night.

In search of a quiet spot, Tocantins and I moved away from the din only to happen upon a restless nest of bats inside the nearby foliage. So we continued a ways down, stopping to chat outside the darkened storefront of a used book store. This corner of Heliotrope and Melrose may be one of Hollywood's grooviest, but at this hour, there's something more than a little, well, serial killer-y about the place. Fittingly, Tocantins, a playwright as well as erstwhile casting director, jumps into the story of how he abruptly ended a career in New York stand-up after being physically assaulted on stage by a mentally ill audience member. "The audience thought it was part of the show," he says. "I broke my ankle getting away from the guy, and I thought, maybe the universe is telling me something." He moved to L.A., took up with Theater of NOTE and found himself in the right place at the right time when sister theater Sacred Fools found itself in the midst of a hosting emergency.

It's felt like home ever since, but he says he can understand why when guests artists from the hardcore stand-up world come in there's almost always an adjustment period. "There's too much love here, it freaks them out."

Recently transplanted Angeleno Patrick Myers came down on the advice of a friend who "is around here somewhere," while Myers was busy making friends out on the sidewalk. "I love this," the Disney attorney said. "I'm absolutely coming back. Everyone's really cool and chill. The show ended 45 minutes ago and everyone's still hanging out."

"I call it Sacred Fool's church service," said company member JJ Mayes, who produces the show along with fellow Fools Colin Willkie and Victor Isaac. "You might not see someone all week, but you'll be able to catch up with them at Serial Killers."

Occasionally, faces here appear familiar for other reasons. Company member French Stewart, who starred in their hugely successful production of Stoneface, began his involvement with the theater in the late night time slot. Jennifer Morrison, Jenna Fischer, and a pre-recorded Ryan Gosling have all popped up in various installments.

The guy who happened to be sitting beside me during the show, frequent Robot Chicken voice Abraham Benrubi, currently serves as one of the producers on the present Watson. But he can't stop reprising his first role as audience member.

"I started out coming two years ago as a fan," he says, "and became a barnacle of the ship of Fools."
-- Mindy Farabee
© 2013 L.A. Weekly
SoCal.com
Pssst! Wanna commit a murder without getting arrested? It's possible at the Sacred Fools Theater every Saturday night in their ongoing production of Serial Killers.

Every week five stories are presented. Some are continuous while others are making their debut. At the end, ballots are collected and the audience decides which plays stay and which have to go.

Last Saturday night was the premiere of Jimmy Hoffa and the Magic Pie written by Jeffrey Pfeiffer and Hate Stories by Jenelle Riley. Hoffa is about the missing union leader who miraculously re-appears after a lengthy absence. Jimmy (wonderfully played by Adam Bitterman) is still stuck in the 60s. He tries to make a comeback of sorts with the help of two mob guys Tony Pro (Brendan McLoughlin) and Tony Jack (Al Patino). The magic pie in question has the answer to Hoffa's question. Hmmm. Very interesting!!!

Riley is Maggie in her self-penned story. She flips the script on a stalker and treats him as welcome visitor instead of psycho prowler. She invites John (Troy Vincent) in for cocktails and tries to get to know him better. After all she knows nothing about him except he likes to masturbate and smell her panties. Meanwhile, Paul (Jon Monastero) is Maggie's other stalker who hates that John is invading his territory. Monastero and Vincent were hysterical beyond belief even if the story is disturbing and sometimes revolting. On the lighter side, Bugadoodles by Padraic Duffy is reminiscent of a children's television show.

In this fifth episode [second, actually - editor], Glow Worm (Rebecca Larsen), Dung Beetle (Philip Newby), Lady Bug (Stacey Jackson), Bee (Matthew Garland) and May Fly (Jaime Andrews) decide to go swimming. It doesn't matter that bees won't go near water or may flies have a short life span, gosh darn it, the beach is the place to be. On their adventure, they meet a shy Stick Bug (Joe Jordan) who quickly becomes the Bugadoodles friend when he helps Bee out of a sticky problem. Unbeknownst to the gang, Clarence (Henry Dittman) is on a mission to control the bugadoodles. Think of the cranky Gargamel from the 80s cartoon show The Smurfs. It's so damn corny but fun to watch at the same time.

On a funnier side, the ever-popular Magnum Opus Theatre churned out their 17th episode. You don't really need to know what the other episodes were about to catch up. It's easy to figure out. A host comes out and explains what the audience will see. Amber (Franci Montgomery) is a sweet natured young girl from Louisiana who moved in with her white trash aunt Jasmin (Kimberly Atkinson) after her parents died. In this episode, her friend wait for her to come out of a coma and then the fun begins. This acting and movements are overly exaggerated and yet it works perfectly. As the first show of the evening, the audience cheered and roared for Magnum. And this was before Haven Hartman, better known as the Beer Wench, carried a vinyl cooler filled with Tecate and Heinken beers.

Out of the five stories, Hate Stories and the fifth episode of Office Fu, which blends corporate America and 70s karate flicks, were killed by the audience. This means that two new stories will have a chance to be either liked or killed by the audience. And the mad man who hosts this medley of hysterical chaos is Terry Tocantins. His wiry frame and infectious joyous personality emits high-octane energy that an audience member easily absorbs. You can't get this much quality from watching a late night movie. Audience participation is a huge part of the show. The actors favor this and the audience, enjoying their tiny cup of wine, soda or beer in hand, happily oblige.
-- Mary Montoro
© 2006 SoCal.com
Also read SoCal.com's review of the 2006 First Annual Thursty Awards