How SERIAL KILLERS Works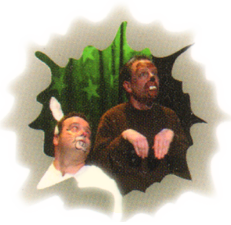 Each week, three continuing stories face off against two new tales. (Click here for this week's serials!)

At the end of the show, you vote for the three stories that you would like to see continue on to next Saturday night, where their subsequent episodes will then be pitted against two completely new storylines.

Each week's serials could live on for weeks... or be quietly smothered in their sleep Ė itís up to you. But whichever pieces you vote for, one thing is for certain - by the end of the evening, you will be a Serial killer.
PLAYOFFS 'n' PRIZES!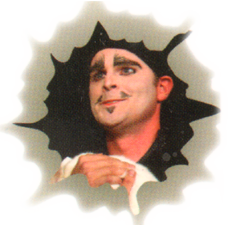 The Seventh season will culminate in May & June of 2012 in a head-to-head battle royale between the sixteen top serials, including the eight longest-running serials plus audience-choice selections! First prize: $750, Second prize: $250! Plus, those final two serials will be the only ones that get to finish their storylines!
TRIVIA
* On and on and on... The longest-running serial ever was Magnum Opus Theatre, at a whopping 36 episodes! Magnum spanned our first and second seasons, and eventually was spun off into a late-night show of its own! (Since we began the playoffs in Season 4, storylines no longer carry over multiple seasons, so no serial will ever beat Magnum's record... or that of the second-longest running serial, the 31-episode epic Darque Magick, better known as "It's Mystere!")
* "Don't call them skits!" The ambition and wide range of material in Serial Killers has made it a fertile proving ground for new work, and several Serial Killers serials have been adapted into full-length plays for our mainstage. The critically-acclaimed Beaverquest:The Musical, the award-winning Watson: The Last Great Tale of Sherlock Holmes, the sellout hit CarnEvil: A Gothic Horror Rock Musical and the subversive The Magic Bullet Theory all got their start in Serial Killers. And in Sacred Fools' sixteenth season, we add three more to the roster, as A Kind of Love Story, the rechristened Absolutely Filthy and the Watson sequel Watson and the Dark Art of Harry Houdini become mainstage shows. Check out the originals: Beaverquest * Watson * CarnEvil * The Magic Bullet Theory * A Kind of Love Story * PP@30
* Ride 'em! If a serial makes it to twelve episodes, it is said to have achieved "The Pony." This is not a sexual position (unless you really want it to be). "The Pony" is named for our first-ever serial, Pony Show, which ran for a then-unprecedented twelve episodes. But at that stage of the game, everything was unprecedented by definition, so, um... I kinda forgot my point. Moving on...
* Holy cow, you're famous! Several celebrities have appeared in Serial Killers over the years, including Jenna Fischer (The Office), Jennifer Morrison (House MD) and Dana Snyder (Aqua Teen Hunger Force). Ryan Gosling once made an appearance via a pre-taped video, and French Stewart enjoyed himself so much that he's now a Sacred Fools company member and a Serial Killers semi-regular!
* Music! Not only do we write and rehearse a brand-new show every week, but there are often full-blown musical numbers. From Richard Levinson's funky theme from The Incredible Scooter Cops and his moving "This Piano is Magic" from Ask Elizabeth, to Bobby's Stapf's country-rock stylings in Beaverquest, to Joe Jordan's sweet WWII-era showtunes from Seamen! The Musical, to Michael Teoli's gothic rock opera in CarnEvil and 8-bit music for Grip of Violence II - not to mention the theme song by Gary Stockdale (see below) - you should come to Serial Killers prepared to dance in your seat more often than not!
Hear the theme song!
Written & Composed by Gary Stockdale
Performed by Gary Stockdale & Cindy Caddel