SoCal.com
photos below by Amber Rey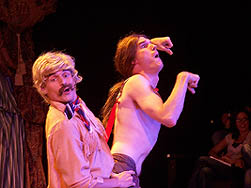 Itís the award show that surpasses anything you can imagine happening on stage. It was fun, crazy, wild, and anything and everything did happen. The creative minds at the Sacred Fools Theater Company decided to show their appreciation for the innovative stories performed by its talented actors and an enthusiastic audience for coming every Saturday night to watch Serial Killers. SK is a weekly series of five original, and often bizarre -in a good way-, pieces performed. After watching all five, the audience then chooses three works that will continue the following week. So, the audience participants are the real Ďserial killersí.
On Saturday, July 29, enthused and hyped up fans packed the theater for The First Annual Thursty Awards. You could barely hear yourself think above the loud chattering. People talked which SK piece was their favorite, complaints about the fans not blowing in their direction or the primal screams of dehydration that can only be cured by the lovely curly-haired Haven Hartman, also known as beer wench, selling Heineken and Tecates beer. The most civilized ones drank their wine while reading their programs.
The award is named after the charming host from the Magnum Opus Theatre series, Thurston Eberhard Hillsborough Smythe. The bespectacled host wore his trademark smoking jacket and read the script from his leather bound portfolio. The winners received a gold spray painted bowl with scraps of golden ribbons (representing cereal, get it Ďserialí?) and a butcher knife dead in the center (you guessed it, killer). After the SK theme song played, the cast of The Unconception of Ryan Templeton, Michael Lanahan, Jaime Andrews and Joe Jordan, sang upcoming previews of their series. After that, the first ever Thursty Awards began.
Terry Tocantins was the brave soul who hosted this insane carnival ride. With his pumped up enthusiasm, he energized the crowd with snippets of whatís to come. The lovely Meghan Jolly had the joyous task in handing out the honor. In between the award handouts, such as Best Villain and Best Religious Figure, congrats to Kimberly Atkinson and Dean Cameron respectively, everyone had a taste of seven episodes of the best, long running dramas. They all range from crazy-ass funny to ĎWhat the hell where they thinking?í
The first episode of Pony Show! written by Padriac Duffy is about a boy and his dream to be the greatest horse trainer ever. Jimmy (Avi Klein) has a pretty messed-up existence. His alcoholic mommy goes out to bars every night looking for Jimmyís new daddy. Jimmy yearns to be like his idol Chamois (Henry Dittman), who looks more like a dreadful ballet dancer instead of an adored icon. Narrating this story is Fly (Jenelle Riley) the insect who befriends Jimmy and has an addiction of munching on feces. Yeah, okay.
More mayhem, but less disgusting, continues with episode six written by Bill Robens, of In Too Deep. An off the meter version of Miami Vice with crazed drug kingpin Cyrus Babylon (actor Kiff Scholl puts drug lord Tony Montana to shame) and perfectly mismatched cops Duke Cunningham (Terry Tocantins) and superhero Bladeís twin brother Umbuele (Mark Antonio Pritchett). Jon Monastero from the vaudevillian act Ten West, is smart but geeky-looking Johnny Tedesco in episode one of An American Education, which he also wrote. Little Johnny reported on the highlights of living in Nebraska . Later that night, he joins his partner Stephen Simon in episode one of The Adventures of Jimmy & Jeb as two fishing buddies discussing, literally, whatever springs to mind.
If you thought working in the white collar world was hard, try working under a boss whoís also a kung fu master. Writer Jaime Robledoís devious mind blended martial arts with corporate America and called it Office Fu. In this third episode, shy copy girl Mei (the Caucasian looking Mary Guilliams) has a big crush on district sales manager Ken (Gianni Quatrano). As she tries to admit her feelings to him, a lot of Bruce Lee action surrounds them. Aerial kicks, back flips, broken English spoken like in the 70s karate films, run amok. The best part was watching the wonderful Jaime Andrews, who played the Human Resources lady Chin Liu, stretching her comedic talents beyond the limit.
Andrews, who is in many productions won for Most Actress, shines in the starring role in writer Bob DeRosa Zombibi! In episode two, Bibi dies on her wedding day. She has turned into a blood-dripping zombie reeking with an inhuman foul smelling odor. She must correct the wrongs she committed during her life. Her husband Roger (Michael Lanahan) still wants her back and is brave enough to kiss her. Of course, he pinches his nose to avoid the stench but vomits anyways. Bibi is followed by a Scully and Mulder type, Mr. and Mrs. Dark (Tom Kiesche and Anna Boroughs). This series, in my opinion, was the funniest one. You canít go wrong with dead people and secret agents.
Another favorite was episode one of Padraic Duffyís Dance! Dance! Dance! . He also picked up the award for Most Writer. Terry Tocantins is insane as the overzealous dance instructor Greg who loves to dance. It is not sure which type of dance but hey, it doesnít matter. He took a page from the 70s funk duo Peaches and Herb to shake your groove thang. Jaime Robledo, who wrote Office Fu, was laugh right out until it hurts as Joony McButterknocken the mute tap dancer. Is your head still shaking? It should. Ingenuity is key at Sacred Fools.
As a new fan of SK, I was happy to see my favorite actor Joe Jordan, donít worry Jaime youíre still my girl, won twice for Best Director and Most Overall Participation Award. Jordan is everywhere as an actor, writer, director and artistic director at Sacred Fools. This man knows the true meaning of being the ultimate hustler. He is tremendously great at comedy but, if you havenít seen him as Elomire in writer David Hirsonís La BÍte that finished its run on Saturday, August 5, you missed out big time. He is a marvel to watch when he dove into this dramatic and demanding role with ease.
The Sacred Fools Theater Company is obviously not ordinary. They bring out the wild side to the theater community that many donít see or realize it even exists. These hardworking people do whatever it takes to make it happen. A lot of them work overtime not only in acting, but also directing, writing and helping out at the concession stand. The theater will return in late September with old favorites and new classics. See whatís going on, www.sacredfools.org, so you donít miss out. You wonít be sorry.
-- Mary Montoro
© 2006 SoCal.com