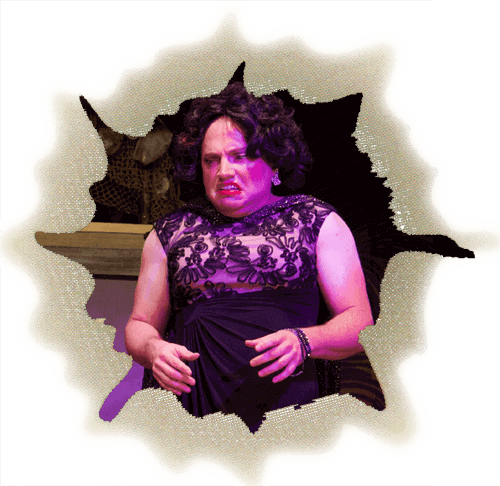 Come Back!
written by Tony Foster
directed by Marisa O'Brien
Every day's a goddamn audition.
Next Time: Episode 6
Began 10/21/17
Summary: Broadway legend-in-her-own-mind Edie and her son Petey visit a therapist, where Pete – who is obsessed with Peter Pan – announces that he's been cast as the first male Peter Pan. His mother – and therapist – both attempt to get roles in the production; Edie's jealous that Wendy's already been cast, but agrees to settle for Tiger Lily. The therapist is less successful in her attempts to get cast as Captain Hook.
Video
Photos
Photos by Jax Ball
Summary: Edie lunches with her former manager, Marty, in hopes of getting him to sign her again. She shames Petey when he turns out to be their waiter, but also gets him to snap into audition mode. However, Marty has left the management business in hopes of becoming an actor, and he desperately attempts to audition for THEM.
Video
Photos
Photos by Vaughn Christenson
Summary: Petey visits a plastic surgeon to get a nose job when Edie bursts in. The two patch up their differences and decide to get their mother/son show back on the road, while the plastic surgeon - who used to be a dancer - dances along.
Photos
Photos by Austin Kress
Summary: Petey is making inroads with Leslie, who runs a theater in Costa Mesa and could book Edie and Petey for their big comeback show. However, Edie's propensity for mixing up theater lore - along with her overcompetitive nature - ruins everything.
Photos
Photos by Nathan Wellman
Summary: At rehearsal for Peter Pan, Kate, the ingenue playing Wendy, turns out to be an obnoxious method actor. Edie arrives and wants to see Petey in costume; meanwhile, she runs lines with Wendy - though Wendy makes her read the part of Tinker Bell, which has no lines, just flashlight-based "twinkles." Petey arrives in a Peter Pan costume that clearly does not fit him, and he is humiliated when Wendy mockingly tells Edie that Petey isn't playing Peter at all; he's just in the chrosu. Edie is horrified, but tells Petey that they'll still make their comeback some day.
Photos
Photos by Jax Ball
Cast
Amir Levi
Edie

(Eps. 1-5)

Demetris Hartman
Petey

(Eps. 1-5)

Etienne Eckert
Therapist

(Ep. 1)

Pat Towne
Marty

(Ep. 2)

John Wuchte
Doctor

(Ep. 3)

Darryl Armbruster
Leslie

(Ep. 4)

Julia Griswold
Kate

(Ep. 5)