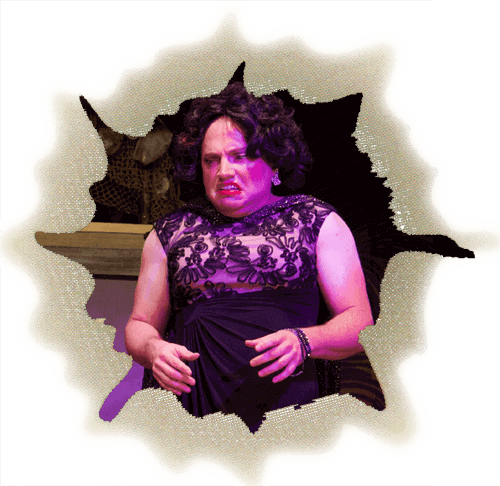 Come Back!
written by Tony Foster
directed by Marisa O'Brien
Every day's a goddamn audition.
20 Episodes / PLAYOFFS CHAMPION
Original Run: 15 eps, 10/21/17 - 3/10/18
Playoffs Run: 5 eps, 4/14/18 - 5/12/18
Summary: Broadway legend-in-her-own-mind Edie and her son Petey visit a therapist, where Pete – who is obsessed with Peter Pan – announces that he's been cast as the first male Peter Pan. His mother – and therapist – both attempt to get roles in the production; Edie's jealous that Wendy's already been cast, but agrees to settle for Tiger Lily. The therapist is less successful in her attempts to get cast as Captain Hook.
Video
Photos
Photos by Jax Ball
Summary: Edie lunches with her former manager, Marty, in hopes of getting him to sign her again. She shames Petey when he turns out to be their waiter, but also gets him to snap into audition mode. However, Marty has left the management business in hopes of becoming an actor, and he desperately attempts to audition for THEM.
Video
Photos
Photos by Vaughn Christenson
Summary: Petey visits a plastic surgeon to get a nose job when Edie bursts in. The two patch up their differences and decide to get their mother/son show back on the road, while the plastic surgeon - who used to be a dancer - dances along.
Video
Photos
Photos by Austin Kress
Summary: Petey is making inroads with Leslie, who runs a theater in Costa Mesa and could book Edie and Petey for their big comeback show. However, Edie's propensity for mixing up theater lore - along with her overcompetitive nature - ruins everything.
Video
Photos
Photos by Nathan Wellman
Summary: At rehearsal for Peter Pan, Kate, the ingenue playing Wendy, turns out to be an obnoxious method actor. Edie arrives and wants to see Petey in costume; meanwhile, she runs lines with Wendy - though Wendy makes her read the part of Tinker Bell, which has no lines, just flashlight-based "twinkles." Petey arrives in a Peter Pan costume that clearly does not fit him, and he is humiliated when Wendy mockingly tells Edie that Petey isn't playing Peter at all; he's just in the chrosu. Edie is horrified, but tells Petey that they'll still make their comeback some day.
Video
Photos
Photos by Jax Ball
Summary: Edie and Petey go to the laundromat, where they meet Cookie, an elderly lady who, upon learning that they're in showbiz, tells them all about her days as a Ziegfeld girl. She wouldn't dance topless... but she did pretty much everything else. Her reminiscing soon devolves into a series of recollections of all the kinky sexual stuff she got into with everyone from Flo Ziegfeld to Irving Berlin to Yip Harburg. Unable to take the increasingly graphic stories, Petey becomes nearly catatonic - and when Cookie grabs his thigh, he flees.
Video
Photos
Photos by Nathan Wellman
Summary: While waiting to audition for a singing telegram, Petey goes out to run some errands... and in walks Charlie, Edie's estranged ex-husband who cheated on her and left when Petey was very small. Edie and Charlie used to perform together, but Charlie has long since left showbiz. Edie lies to him and tells him that Petey didn't go into showbiz, but is a doctor and happily married. The two share one last dance, but it's clear that despite Charlie's wishes, they're never going to stoke up the old fires again. As Charlie leaves, Petey returns, neither knowing they're father and son. As Petey sits down to wait for the audition, he asks if this ever gets any easier. "Every day is a goddamn, audition, son," says Edie. "And don't you forget it."
Video
Photos
Photos by Travis Snyder-Eaton
Summary: Petey attends therapy, though he keeps calling his therapist Idina Menzel, projecting his love of the Broadway star onto his therapist... whose real name is Adele Dazeem. And Adele, it transpires, is rather unhealthily obsessed with Idina Menzel, breaking into facts and songs from her career instead of focusing on Petey. She does, however, manage to get out the not-too-hard-to-formulate theory that Petey's problems step from his upbringing... which infuriates Edie, who storms in. Petey is also not having it at first, but the argument he gets into with Edie regarding her mixing up of various iterations of "Gypsy" convinces him. And then Edie and Adele get into a diva-off, while Petey cringes.
Video
Photos
Photos by Jax Ball
Summary: Petey is in court fighting a traffic ticket for going 85 in a 35 mile an hour zone in Culver City, and is not helped by Edie showing up to stage an impassioned defense; in the process, we learn that the judge absolutely despises musical theater. Petey's own defense is that his mother was in the car being a back seat driver and insisting on the radio being set just so - including lots of treble. When Edie advises Petey to defend himself the best way he knows how and plops a straw hat on his head, he launches into a patter song about Treble... right here in Culver City! Exhausted by Petey's energetic and breathless performance, the judge sighs out a Not Guilty just to get them out of his courtroom.
Video
Photos
Photos by Scott Golden
Summary: Edie wants a role in a play she thinks is called "The Cage is Full" (it's actually "La Cage Aux Folles"), but the role calls for a man in drag, not a woman. So when the director, Jerome DeVille - the greatest theatrical director in Thousand Oaks - agrees to audition her in her home, she persuades her friend Trixie from Poughkeepsie to pretend to be her wife, and Edie pretends that she's really "Eddie," a man in drag. But Edie goes overboard with the butch act, and Jerome doesn't want to cast her. However, he is taken with Trixie, and gives her his card, telling her to call him up for a date if she ever decides to leave her "husband."
Video
Photos
Photos by Scott Golden
Summary: Edie wants a role in "Slideshow" (actually "Sideshow") in which she'd play conjoined twins, but the director, Ivan - the greatest theatrical director this side of Lankershim - wants to cast actual twins. So she convinces Ivan to audition her in her home and pretends to have a twin, DeeDee, to whom she's not speaking and can't be in the same room with. And she convinces her friend Blanche, who came over to borrow a cup of sugar, to help her with the quick-change subterfuge. When Ivan demands the twins do a duet, Edie's quick changes can't come quick enough, and the ruse is exposed.
Video
Photos
Photos by Nathan Wellman
Summary: While waiting for a Metro ride to West Covina, Edie and Petey meet Evie, a woman who has genuinely been on Broadway and lived out Edie's fantasies... but has given it all up for her newborn son, Stevie. A jealous Edie runs down Evie's impressive accomplishments. And Petey - amazed and touched that Evie is not going to force little Stevie into show business - has it out with Edie for doing so to him.
Video
Photos
Photos by Aaron Francis
Summary: Harried and Sondheim-singing mother Joanne is having a harried day at her kid's birthday party, and is further stressed out when Edie and Petey arrive to perform - because they thought they were hired for a bachelorette party, and have a steamy performance planned. Joanne tells them their kids are expecting Disney. So they go on with the show... doing their Fosse-inspired dance while changing the lyrics to be about Disney characters. Joanne, now several drinks into her scheduled relaxation time, is impressed.
Video
Photos
Photos by Ari Radousky
Summary: Edie and Petey go to the funeral of Edie's father, where they confront Moishe, Edie's brother - a successful dentist in Beverly Hills. Edie resents that their father, who was also a dentist, always liked Moishe better and never supported her performing career. She is further hurt when it turns out that their father had a love of musical theater - especially "Carousel" - and has left Petey all his original cast albums, some of which are collector's items. And the final twist of the knife comes when Moishe tells her that on a trip to New York with their father - a trip Edie didn't get to go on and is to this day jealous about, as she's still never been to New York - they went to see a Broadway show. After nearly getting into a family-rending argument that Petey barely manages to break up, Moishe tells her that when they went to see that show, their father said that someday, Edie would be up there on that stage. Edie is flabbergasted. Why didn't he ever say that to her face when he was alive? Moishe says that their father was jealous that Edie was following her dreams. Petey begins singing "You'll Never Walk Alone," and Edie and Moishe tearfully join in.
Video
Photos
Photos by Cole Wagner
Summary: Petey has a meeting at the Holiday Inn with Maggie, the greatest theatrical producer in the Inland Empire... but Maggie is only interested in seducing the clueless Petey. When room service arrives with the romantic dinner for two Maggie has ordered, it's borne by Edie, who, unbeknownst to Petey, has been working at the Holiday Inn to pay the bills. When Maggie declares that Petey has no talent and sleeping with her is Petey's only chance, Edie and Petey are affronted, and they show off their musical skills to the unimpressed producer.
Photos
Photos by Luis Chandia
Summary: At a bar between two theaters, a despondent Edie throws back a few drinks; it's intermission of a production of Nunsense she didn't get cast in. She confides in the stranger next to her that she went to hate-watch it and is disappointed to find that it's actually a really good production, and the woman who got cast instead of her is also good. Said stranger is Buzz, a luckless playwright whose poorly-reviewed production is playing at the other theater. Buzz bucks up Edie's spirits and tells her never to give up on her dreams; there is chemistry between the pair. He leaves... and returns just moments later to take her in his arms and kiss her.
Video
Photos
Photos by Sierra Taylor
Summary: At a motel on the way to a booking in Mississippi, a bellboy who is also a song and dance man at the local community theater tries to sell Edie and Petey on joining him at this theater; he works them each individually, and each gets jealous. But ultimately, the bellboy is unable to either join or break up the mother and son team.
Video
Photos
Photos by Travis Snyder-Eaton
Summary: Still Mississippi bound, Edie and Petey stop off at a diner for lunch, where the waitress is a musical theater fan whose only hope of seeing "Hamilton" is if it ever tours through her small town. But when Edie and Petey turn out to be flat broke and unable to pay the bill because Edie blew their last ten bucks, they pay their bill by performing their own version of "Hamilton."
Video
Photos
Photos by Travis Snyder-Eaton
Summary: Edie and Petey are finally working their gig on a riverboat in Mississippi, where the entertainers are also the waitstaff. Edie becomes jealous when Petey is recognized by handsome young Sky, who saw Petey in his understudy performance as Peter Pan and is a big fan. Sky, who is not only an actor, but also the wealthy son of the owner of the cruise line, tells Petey that in an hour, he's leaving for New York to audition for a major Broadway show... and he thinks Petey should come with him. Later, Edie gets ready for the big comeback show while short-order chef Louie - who is also the show's emcee - flirts with her. Edie wonders where Petey could be... and then, with minutes to go until showtime, discovers a note from him. Petey has decided to take up Sky on his offer to live in New York, where Sky will give him room and board; he has to know what he can be without his mother holding him back. Heartbroken, Edie goes on with the show alone...
Photos
Photos by Jax Ball
Summary: Edie begins her act, explaining that her son Petey has abandoned her to go to Broadway because she was holding him back. She attempts to describe to the audience how the show would have been with Petey there - and garbles all the lyrics, as usual - but breaks down partway through and begins to leave the stage, feeling like a fool. But suddenly, Petey arrives. He's realized that the true Broadway is in his heart, when he's by his mother's side. The two perform the remainder of the show together, and Edie even gets the lyrics to one of the songs right (though she thinks it's from "Showboat"). The two bring the house down, their comeback tour having become a reality at last.
Cast
Amir Levi
Edie

(Eps. 1-20)

Demetris Hartman
Petey

(Eps. 1-9, 12-15 & 17-20)

Etienne Eckert
Therapist

(Ep. 1)

Pat Towne
Marty

(Ep. 2)

John Wuchte
Doctor

(Ep. 3)

Darryl Armbruster
Leslie

(Ep. 4)

Julia Griswold
Kate

(Ep. 5)

Lynn Odell
Cookie

(Ep. 6)

Marisa O'Brien
Charlie

(Ep. 7)

Rebecca Larsen
Analyst

(Ep. 8)

Bart Tangredi
Judge

(Ep. 9)

Emily Clark
Trixie

(Ep. 10)

Jacob Sidney
Jerome

(Ep. 10)

Jaime Andrews
Blanche

(Ep. 11)

David LM McIntyre
Ivan

(Ep. 11)

Tara Norris
Evie

(Ep. 12)

Cj Merriman
Joanne

(Ep. 13)

Bruno Oliver
Moishe

(Ep. 14)

Lauren Van Kurin
Maggie

(Ep. 15)

Brendan Farrell
Buzz

(Ep. 16)

Bryan Bellomo
Jimmy

(Ep. 16)

Scott Golden
Doug

(Ep. 17)

Meg Cashel
Becky

(Ep. 18)

Jacob Barnes
Sky

(Ep. 19)

Tifanie McQueen
Louie

(Ep. 19)