NATURE'S ODESSY
written by Ed Goodman
directed by Kathi Copeland
Animals can communicate in the strangest ways.
CAST
Dan Wingard, Kiff Scholl, Laura Napoli, Joe Hendrix, Matt Garland,
Caleb Martin, Joe Fria, Mike Lanahan, Vanessa Perkins,
Aaron Francis, Alicia Wollerton & Stacey Jackson
Choreography by Laura Napoli
PHOTOS

Dan Wingard as the Host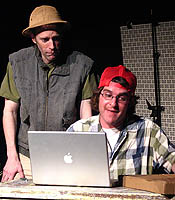 Verbal and non-verbal communication.
(L-R: Kiff Scholl, Laura Napoli, Dan Wingard & Joe Hendrix)

Joe Fria & Mike Lanahan as the Dogs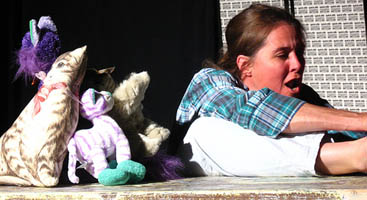 Alicia Wollerton as the Cat Lady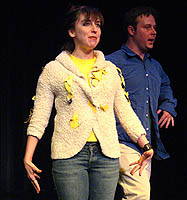 She's a canary! She's a canary!
(Vanessa Perkins & Caleb Martin)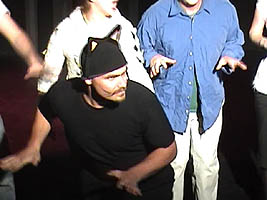 Aaron Francis as the Cat amongst the birds.

Stacey Jackson & Caleb Martin as the Preying Mantises. (Mantisii?)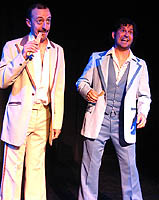 Termites (Mike Lanahan & Kiff Scholl)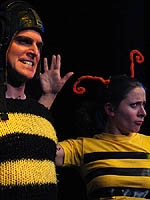 A bee that dances so well, a worker
offers to make her his "queen."
(Laura Napoli & Joe Fria)