THE FURTHER ADVENTURES
OF SUGAR BAM-BAM
written by Angela Sauer
directed by KJ Middlebrooks
Ep. 2 directed by Brendan Hunt
Eps. 3-4 directed by Victor Isaac
Ep. 5 directed by Victor Isaac & KJ Middlebrooks

Pageant girl hits her twenties... hard.

8 Episodes
Original Run: 5 Eps, 3/1/14 - 5/3/14
Playoffs Run: 3 Eps, 5/24/14 - 7/5/14
SUMMARY: Former child pageant celebrity Sugar Bam-Bam - aka Alabama Davis - is having trouble adjusting to adulthood. She's staying with her sensible and long-suffering sister, Blair, who has arranged for Sugar Bam-Bam - against her own better judgment - a job interview. Things are not helped by Mama Fern, who is still coddling Alabama and encouraging pageant-style behavior that'll be no help in a real-world situation. Or rather, it shouldn't... but her interview with Mr. Darling goes better than expected.
SUMMARY: Sugar is charged with training 4-year-old Starla - Blair's boss - to win a beauty pageant. It's an uphill climb... and Blair's job is on the line if Sugar doesn't succeed. Bubba, who failed at pageantry, tries to help; his contribution is at least valuable so Starla can learn what NOT to do. But trouble strikes when crazed pageant mom Mrs. Skippergosh abducts Sugar.
SUMMARY: Blair enlists the aid of Sugar's former pageant friends Chardonnay, Gigi and Sunny to help rescue Sugar from Mrs. Skippergosh, who wants Sugar to train her own daughter, Violet. A daring rescue is enacted, but all it seems to accomplish is to deliver even more pageant girls into Mrs. Skippergosh's hands. But there's a wrinkle when the captive is revealed to not be Sugar at all, but famed Vegas Sugar Bam-Bam impersonator, Splenda Boom-Boom, who has swapped places with Sugar.
Photos by Joseling Jolieth
SUMMARY: Mama, Bubba and Sugar herself join in the rescue operation, but ultimately the other Grand National pageant girls decide to stay and help train Violet while Sugar goes home with Bubba and Splenda to continue training Starla. Whose pageant training skills will reign supreme? But there's a twist, as we learn that Starla is no ordinary four-year-old, but a plant with a secret mission from an unknown employer.
Photos by Joseling Jolieth
SUMMARY: A distraught Sugar Bam-Bam, overwhelmed by recent events, has locked herself in her room and won't stop crying. Starla turns out to be a Federal agent, trying to infiltrate the world of pageants by cozying up to a celebrity. His Chief shows up to dress him down for his recent lack of focus, and is horrified to find that "Starla" may be in too deep... he's falling in love with Sugar. As the family returns, the Chief makes himself scarce, and Starla finds the key to getting Sugar out of her funk.
Photos by Marian Gonzalez
EPISODE SIX (5/24/14) - PLAYOFFS WEEK 2!
SUMMARY: Starla finally reveals himself to an at-first very confused Sugar as Agent Starr, and confesses his attraction to her. He makes her swear herself to secrecy, but Sugar, who is very bad at keeping secrets, quickly blurts out in front of her family that Starla is really a man.
Photos by Marian Gonzalez
EPISODE SEVEN (6/28/14) - PLAYOFFS WEEK 3!
SUMMARY: With Starla's secret out, the family tries to decide what to do next, and Blair thinks she might be a secret agent as well. But when Sugar's pageant crown is broken, things come to an improbable - if predictable - halt. Meanwhile, Violet has become ruthlessly hell-bent on winning the pageant, and Mrs. Skippergosh has a plan to bribe the judges.
EPISODE EIGHT (7/5/14) - PLAYOFFS WEEK 4!
SUMMARY: It's the day of the pageant, and Sugar despairs, believing her tiara was the source of her pageant power, but Agent Starr tells her the power was in her all along. Awwww. Mr. Darling - in reality, one of Agent Starr's superiors - tries to take Starr off the case, but he insists on remaining in disguise and infiltrating the pageant by Sugar's side. At the pageant, Sugar has an awkward reunion with her former pageant sisters, who have been training violet, and Mrs. Skippergosh finds that her attempt to bribe the pageant judges with $5 have come to naught. As Violet realizes she's losing, she whips out a secret weapon - stolen from the FBI - but how did she get it? No time to worry about that, though, as a ricochet from the fired weapon strikes Sugar and deals her what seems to be a fatal blow.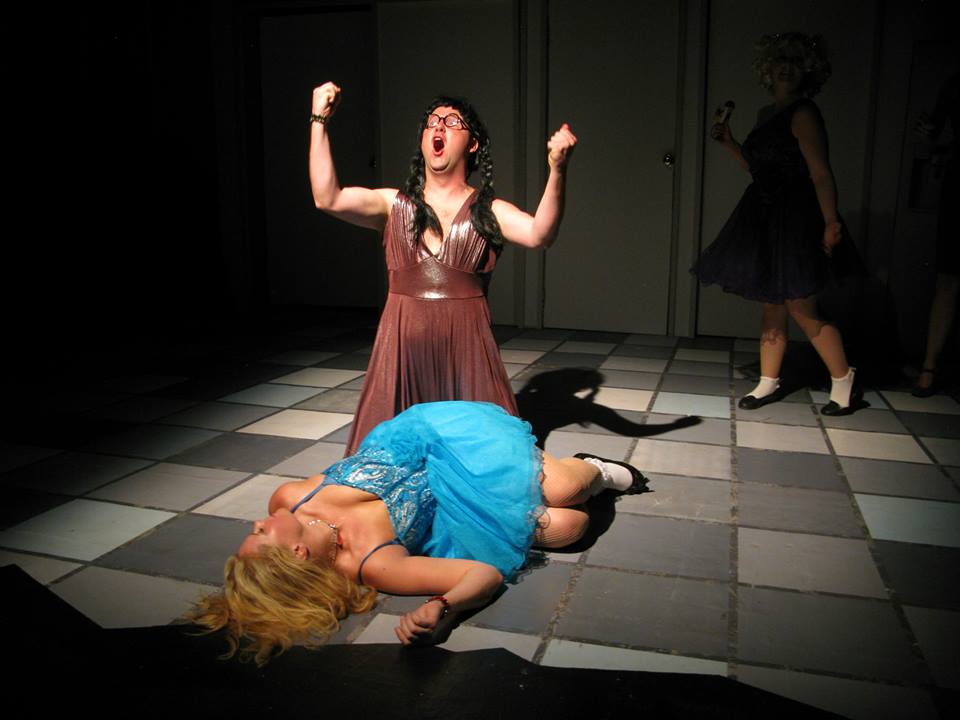 CAST

Lauren Van Kurin

Sugar Bam-Bam (Eps. 1-2, 4 & 6-8)

Angela Sauer

Blair (Eps. 1-8)

Erin Matthews

Mama Fern (Eps. 1 & 4-6)

Scot Shamblin

Bubba (Eps. 1-2 & 4-8)

Scott Leggett

Mr. Darling (Eps. 1 & 8)

Scott Golden

Starla Darling / Agent Starr (Eps. 1-8)

Emily Donn

Sunny (Eps. 2-4 & 8)

Dana DeRuyck

Gigi (Eps. 2-4 & 8)
Theme Song Singer (Ep. 8)

Natalie Rose

Chardonnay (Eps. 2-4 & 8)

Jaime Andrews

Mrs. Skippergosh (Eps. 2-4 & 7-8)

Peter Fluet

Henchman (Ep. 2)

Joshua Benton

Henchman (Eps. 2-4 & 7-8)
SBB (Ep. 5)

Arthur Africano

Henchman (Eps. 3-4 & 7-8)

Erika Rose

Violet Funk (Eps. 3-4 & 7-8)

Shannon Nelson

Splenda Boom-Boom (Eps. 3-4 & 8)

Kevin Wheatley

The Chief (Eps. 3-4)

Natalie Rose & Cj Merriman

Theme Song Singers (Ep. 5)

Will McMichael

Chippendale (Ep. 6)
Music & Lyrics by Angela Sauer
Arrangement by Nicholas Neidorf