BEST SONG
"Hop-Hop-A-Chew (No Law Against That)" (Duffy/Stapf) from BEAVERQUEST!
"Animal's Song (I'm a Retard)" (Isaac/Levinson) from BLACKMAN: THE MUSICAL
"Nameless City" (Tocantins/Levinson) from TEMP COP
"The First Boy..." (Levinson) from A BIKINI FULL OF TROUBLE
"Check the Gate Inside" (parody lyric by Joe Hendrix/ original music by Craig Carnelia) from THREE PENNY SOAP OPERA
Listen to Clips of the Best Song Nominees!
("Check the Gate Inside" currently unavailble)
BEST NUDITY
Laura Napoli's wet T-Shirt in TITS TITS TITS
Brandon Clark's severed phallus in BLAMING APHRODITE
David Damico's errant hospital gown in THREE PENNY SOAP OPERA
Jordan Savage's full body paint in GLAMMER
Jaime Robledo's child-sized jockstrap in GLAMMER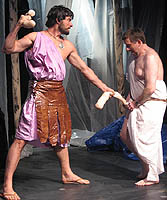 BEST MONOLOGUE
Scott Leggett's fantastical adventure in THE CURIOUS TRANSFORMATION OF jak_brown555 [Watch a clip!]
Scott Leggett's three phone call rant as Wilton Van Nuys in BLACK [Watch it!]
Scott Leggett's Esai Morales story as Sgt. O'Malley in TEMP COP [Watch it!]
Ed Goodman, Amanda D'Angelo & Joe Hendrix in THE BREAKFAST CHRONICLES
Paul Plunkett as Klagdor in GIANT MONOLOGUE [Watch it!]
BEST KISS
Kimberly Atkinson & Jaime Robledo licking Phil Newby's face in BARPHEE'S WORLD
Jen Hamel chewing off Frank Stasio's tongue in LOLLY!!POP!!SUPERJOYFUNTIME
The parrots kissing Mr. Jenkins in BEAVERQUEST!
Jenelle Riley & Lara Everly making out in DARQUE MAGICK
Dawn Stahlak & Phil Newby making out in BARBARA!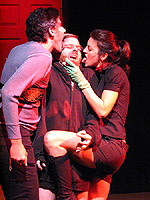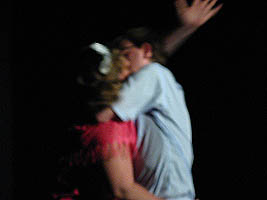 BEST ACTION SEQUENCE
The Pirate sword fight in BEAVERQUEST!
The zombie attack in DARQUE MAGICK
All of OUTSIDE
The riot in ONCE UPON A TIME AT THE END OF THE WORLD
The Jello Fight in GLAMMER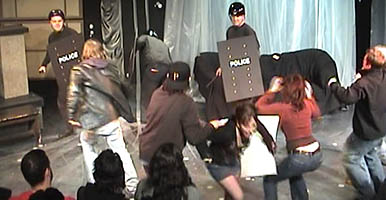 THE MICKEY ROONEY AWARD FOR WORST OFFENSIVE STEREOTYPE
BLACKMAN: THE MUSICAL
Joe Hendrix as 8-Ball and Ariel Francis as Amy in TEMP COP
Bobby Placencia as Carlos the AD in THREE PENNY SOAP OPERA
Terry Tocantins as Nacho Libre in THE HITCH
Scott Leggett, Jaime Robledo, Franci Montgomery and Joe Hendrix as the Japanese Businesspeople in DARQUE MAGICK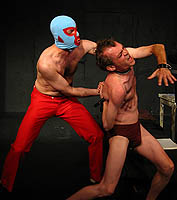 BEST VILLAIN
Scott Leggett as Terrence Blundy in GLAMMER
Michael Franco as Bartholemew the Sea Captain in BEAVERQUEST!
Jaime Robledo as Cortez in TEMP COP
Supatra Hanna as Chrissy in BARBARA!
Stephen Alan Carver as The Glamorous Dollop in LITTLE BIG KIDS
SCIENTIFIC ACHIEVEMENT
The Blizzard in BEAVERQUEST!
The Immense Bong in DICK CHENEY
The Magic of DARQUE MAGICK
Rain sequence, skateboard, and nearly flying helicopter in THREE PENNY SOAP OPERA
Klagdor in GIANT MONOLOGUE
AVANTE GARDE
THE DADAS
AC/DC'S BACK IN BLACK
BLACKMAN: THE MUSICAL
THREE PENNY SOAP OPERA
GIANT MONOLOGUE
BEST DANCE
Joe Fria, Scott Leggett and Jaime Robledo's modern dancing in SAFETY PATROL
Henry Dittman, Joe Fria, Rebecca Larsen, Amanda D'Angelo and Jordan Savage's Bullfighting dance-off in GLAMMER [Watch it!]
The entire cast of AC/DC'S BACK IN BLACK [Watch it!]
Andrew Bentler, Mike Mayhall, Joe Hendrix, Ryan Scharoun & Franci Montgomery as the Backstreet Boys in BACKSTREET'S BACK, ALRIGHT!
Paul Plunkett, Carrie Wiita, Anthony Backman, Andrea Walker & Kelsey Wedeen's Zombie Thriller dance in DARQUE MAGICK
BEST RELIGIOUS FIGURE
Annie Vest as Sister Marva in INSIDE PIEANOXITY
Emily Kosloski as The Spirit of the Forest in BEAVERQUEST!
Brandon Clark as Cronus in BLAMING APHRODITE
Alex Torovic as The Archangel Michael in PSYCHE OR NO PSYCHE
Christina Byron as The Fairy Titmother in TITS! TITS! TITS!
BEST COSTUME
The magical creatures of LOLLY!!POP!!SUPERJOYFUNTIME!!
The band of heroes of YONDER REALM
The Turducken and eclectic ensemble of Jack in BEAVERQUEST!
The brightly colored cartoon characters of FARSONIA FOREST
The TI-85 Robot and custom made T-Shirts of DOWN TO EARTH
BEST NAZI
Paul Plunkett as Adolph in BEAVERQUEST!
Troy Blendell as Fritz in BLACK
Marco Naggar as The Nazi in ANNE FRANKENSTEIN: THE MUSICAL
Michael Lanahan as Fritz, the self-loathing Jew in DARQUE MAGICK
BEST CROSSDRESSING
Bryan Krasner as Ashlee in BARPHEE'S WORLD
Ian Crossland as Vera in ROXY IN THE FOXY DEN
Brandon Clark as Daughter/Son in THE DADAS
David McIntyre as Tabitha in NAUGHTY SCHOOL GIRLS IN PERIL
Stephen Alan Carver as The Glamorous Dollop in LITTLE BIG KIDS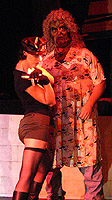 BEST POLITICAL FIGURE
Joe Jordan as Abraham Lincoln in THE DADAS
Troy Blendell as Dick Cheney in DICK CHENEY GOES TO COLLEGE
Jim Nieb as George Bush, Troy Blendell as Dick Cheney and Lisa Ann Nicolai as Laura Bush in BARBARA!
Caleb Martin as Young Grover Cleveland in THE GROVER CLEVELAND STORY
Terry Tocantins as Trotsky in A BIKINI FULL OF TROUBLE
BEST MAKE-UP
Heather Hopkins for BARPHEE'S WORLD
Heather Hopkins for GLAMMER
Heather Hopkins for BEAVERQUEST!
Heather Hopkins for DARQUE MAGICK
Heather Hopkins for THE CLOWN CHRONICLES
BEST PIECE UNDER 5 MINUTES
AC/DC'S BACK IN BLACK
OUTSIDE
ROCKABILLY BILLY AND THE CASE OF THE STOLEN MAGRITTE
GIANT MONOLOGUE
THE ANIMALS & CHILDREN AWARD
The explosion of bunnies in DARQUE MAGICK
Ariel Francis as Kid Plasma in LEAGUE OF HEROES
Ariel Francis as Amy in TEMP COP
Bunny in the kitchen in DARQUE MAGICK
Fria singing with a bunny in DARQUE MAGICK
THE "MOST AWARDS":
(for whoever did each of these things the most in the last year)
MOST ACTOR: Jaime Robledo, Joe Fria, Bryan Krasner, Scott Leggett, Mike Lanahan
MOST ACTRESS: Franci Montgomery, Jaime Andrews, Kimberly Atkinson, Jenelle Riley, Vanessa Perkins
MOST DIRECTOR: Joe Jordan, Jaime Robledo, Jenelle Riley, Rebecca Larsen, Scott Leggett
MOST WRITER (Tie): Jenelle Riley, Jaime Robledo, Padraic Duffy, Joe Jordan, Joe Hendrix
MOST TECH: Amber Rey, Jessica Franco, Hans Gelpke, Brit Renken, Noel Balacuit
OVERALL: Scott Leggett, Jaime Andrews, Franci Montgomery Jaime Robledo, Jenelle Riley
PRODUCER'S AWARD: C.M. GONZALEZ, HEATHERLYNN GONZALEZ & HEATHER HOPKINS